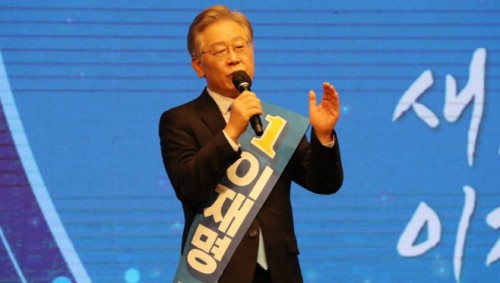 Gyeonggi Governor Lee Jae-myung, a leading presidential contender of the ruling Democratic Party (DP), speaks during a party event at CJB Convention Center in Cheongju, North Chungcheong Province, on September 5, 2021./ Source: Yonhap News
AsiaToday reporter Jeong Geum-min
Gyeonggi Province Governor Lee Jae-myung, a leading presidential contender of the ruling Democratic Party (DP), won a landslide victory Sunday in the party's Chungcheong region primary. Lee earned 54.54 percent in the presidential primary vote for Sejong and North Chungcheong Province. As he earned a landslide victory in Chungcheong region, it is apparent that pro-Moon Jae-in hardliners are strategically supporting the Gyeonggi governor to regain power.
The results of the party's primary for the Sejong-North Chungcheong Province region announced at CJB Convention confirmed Lee's dominance in the primary for next presidential election. Among registered party members of the region, 54.9 percent voted for Governor Lee. As for the cumulative vote rate in Chungcheong province, the Gyeonggi governor earned 54.72 percent and former DP Chairman Rep. Lee Nak-yon followed with 28.19 percent.
At the DP's primary vote held among registered DP members of the Daejeon-South Chungcheong Province region Saturday, Governor Lee won 54.81 percent, doubling the support rate for second runner-up Lee Nak-yon with 27.41 percent. As Governor Lee, who ranked first in the opinion polls, proved that the public sentiment and the party sentiment are not much different as he stayed strong in the party's primary vote for party members.
"I am a candidate with overwhelming competitiveness in all regions and age groups, as wells as both progressive and moderately conservative blocs," Governor Lee said. "I wish for the Republic of Korea, a great country with full of hope that President Lee Jae-myung and the people will create together and the laughter of children that will never cease."
As Governor Lee achieved a landslide victory in Chungcheong, considered as one of the most important swing states in the South Korean elections, he is highly likely to be chosen as the ruling party's presidential candidate without a runoff.
However, the remaining voting in the Honam region primary, the major primary of the party, is a variable that cannot be ignored. Honam is the liberal's traditional base and has the most registered DP members. Therefore, former DP Chairman Lee Nak-yon and former prime minister Chung Sye-kyun, who have regional base in the southwest region, could show strong presence in the region.
The DP plans to hold nine additional primary votes across the country, with Seoul as the final stop on Oct. 10.