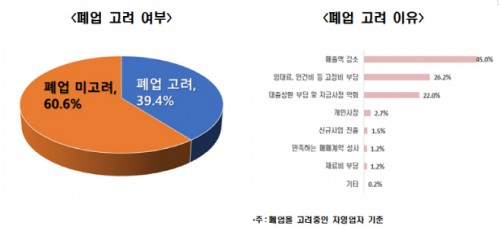 Source: Korea Economic Research Institute (KERI)
AsiaToday reporter Park Ji-eun
Four in 10 small business owners are found to be considering closing their businesses after the resurgence of COVID-19, according to a new survey. If this trend continues, 91.4 percent said they would close their business within a year. There are calls that the government should come up with active supportive measures, such as increasing its compensation for losses from the business restrictions.
According to the survey done by Mono Research on commission from Korea Economic Research Institute (KERI) on 500 self-employed people on September 1, 39.4 percent of respondents said they are considering closing their businesses.
The respondents were from 8 different types of business, including restaurants, wholesale and retail business, education service, transportation and warehousing, manufacturing, sports and entertainment facilities, accommodation, and more.
Forty five percent considered closing their stores due to poor sales, with 26.2 percent pointing out high fixed cost and 22 percent unstable financial condition. If this current situation continues, 33 percent said they would close their business within three months. More than 9 out of 10 small business operators are considering going out of business within a year.
Nine out of 10 small merchants said their sales have declined since the fourth wave of the pandemic compared to the first half of this year. The decline averaged at 26.5 percent. Not only sales but also their net profit decreased significantly, as 89.2 percent said their monthly average net profit has dropped by an average of 25.5 percent compared with the period before the fourth wave.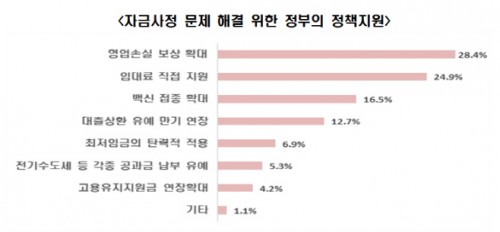 Source: Korea Economic Research Institute (KERI)
Three out of 10 or 28.4 percent of the respondents said the government should increase its compensation for their losses from the social distancing rules. Almost 25 percent, or 24.9 percent requested subsidy for rent, 16.5 percent expanding vaccination and 12.7 percent extension of debt maturity.
"The self-employed are going through tougher time than ever before due to prolonged social distancing rules, and it is difficult to secure funds through loans," said Choo Kwang-ho, head of KERI's economic policy division. "All efforts should be made to overcome the difficulties of the self-employed by rapidly forming herd immunity and increasing the efficiency of social distancing."