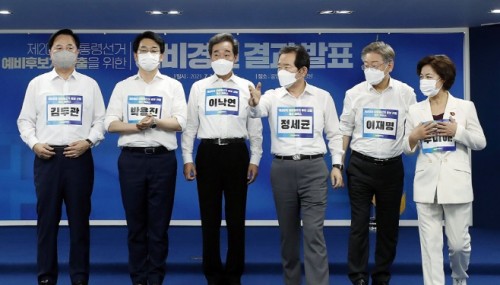 (From right to left) Choo Mi-ae, Lee Jae-myung, Chung Sye-kyun, Lee Nak-yon, Park Yong-jin and Kim Doo-kwan pose during an event to verify tickets for the first round of the ruling Democratic Party's primary on July 11, 2021./ Source: Yonhap News
AsiaToday reporter Jeong Geum-min
Competition among the ruling Democratic Party's (DP) presidential candidates is intensifying. Former DP chief Lee Nak-yon, who is on the rise, is seeking to beat out Gyeonggi Gov. Lee Jae-myung, the front-runner for the ruling bloc, to achieve the "golden cross" in support rating by the end of this month. Former Prime Minister Chung Sye-kyun is trying to appeal to voters by stressing his morality.
The DP's primary has been virtually shaped up as a competition between the governor and some other contenders. However, political observers say Gov. Lee has given other competitors a great chance to chase after him closely with his unexpected remarks involving an actress and weakness points of his signature policy to adopt universal basic income. In the meantime, ex-chief Lee's support surged in the latest poll on presidential hopefuls.
"It would be better if the golden cross (between Gov. Lee and ex-chief Lee) comes quickly," Oh Young-hoon, senior spokesperson for the Lee Nak-yon's camp, said in a phone interview with AsiaToday on Thursday. "I'm confident that ex-chief Lee will win over Gov. Lee through TV debate and so on," he added.
While the presidential race is shaking up, former Prime Minister Chung Sye-kyun is looking to leap forward by expanding the organization. Chung had a luncheon with Gangwon Gov. Choi Moon-soon and made a request for support. Lawmaker Kim Min-seok, an aide to Chung, told AsiaToday that a loyal organization of South Chungcheong Gov. Yang Seung-jo has joined Chung's camp.
Chung is strengthening containment against ex-chief Lee. "The support rating has started to fluctuate. During the cut-off, Lee Jae-myung's position as a matchless contender is broken," Chung said during a radio interview on Wednesday.
Chung also emphasized that he has been the only descendant from the Roh Moo-hyun administration. The political circles pointed out that Chung's remark meant to criticize ex-chief Lee, who did not join the by-then ruling Uri Party during the Roh administration.
Former Justice Minister Choo Mi-ae is raising the level of criticism against the Gyeonggi governor. "(Lee) changing his position on basic income or saying it is not a pledge lowers political credibility," Choo said.
Lawmaker Park Yong-jin, the youngest contender of the ruling bloc, set a strategy to secure power by differentiating from negative warfare between the first and second place runners through 'policy verification.'
Another contender Kim Doo-kwan is highlighting the fact that he pioneered the party's political wasteland Yeongnam. Kim visited Busan, Ulsan, and South Gyeongsang to extend his support base. He plans to visit Bongha Village on Friday to pay tribute to former President Roh Moo-hyun and visit Roh's wife, Kwon Yang-sook.