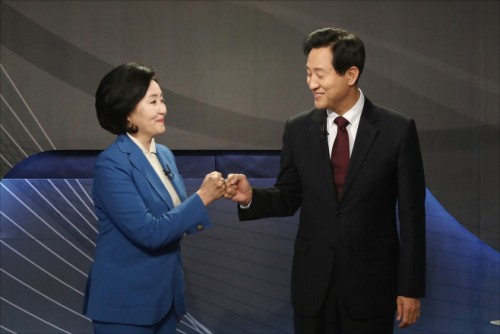 Park Young-sun (L) of the ruling Democratic Party and Oh Se-hoon (R) of the main opposition People Power Party – candidates for the Seoul mayoralty – bump fists before a TV debate in Seoul on April 5, 2021, ahead of the April 7 by-election./ National Assembly Press Corps
AsiaToday reporter Kim Youn-ji
The ruling Democratic Party's Park Young-sun and main opposition People Power Party's Oh Se-hoon engaged in their final TV debate Monday ahead of the April 7 by-elections, where they clashed over Oh's alleged land speculation and the Moon administration's housing policies. Park criticized Oh, saying, "If a lying candidate becomes a mayor, we have nothing to teach blossoming children." Oh criticized the Moon administration, asking Park, "The former administration raised home appraisal price by 14%, but the Moon administration raised by 72%. Is it appropriate?"
The rival parties continued to engage in a fierce war of words to support their candidates. Both claimed that the record-high early voting turnout would work to their advantages. They are expected to continue to urge the public to actively participate in voting.
The top two candidates held their TV debate hosted by the Korea Broadcasting Journalists Club in Seoul. The focus of the debate was on real estate. The two candidates locked horns in the fierce debate.
Oh argued that Park's housing policies were unrealistic. "Candidate Park Young-sun's housing policy pledges are close to impossible. How can she supply 300-thousand homes?" In response, Park said, "Candidate Oh Se-hoon has little understanding of recent technological developments because he has been engaged in other things for the last decade."
"Citizens don't want Seoul to be a city where lies prevail. Candidate Oh is an expert of distortion," Park said. In response, Oh said, "The Democratic Party had decided not to select a candidate. They changed their regulation and Park Young-sun herself is a lie."
The two candidates also awkwardly exchanged compliments at the moderator's request. Park said Oh is silver-tongued and has an exceptional sense of style. Oh said Park could give hope to many young women as female politician.
Both the ruling DP and the main opposition PPP engaged in a fierce battle to stop their supporters changing their minds. When a scheduled press conference of a son of a pollack soup restaurant owner was canceled, the DP claimed the cancellation was due to the PPP's threat. "Candidate Oh is reviling innocent citizens as liars with fear that his lies could be stripped away," said DP spokesperson Choi In-ho. On the other hand, the PPP pointed out the testimony's sincereness, saying, "How could the witness remember things that happened 16 years ago in such detail?"