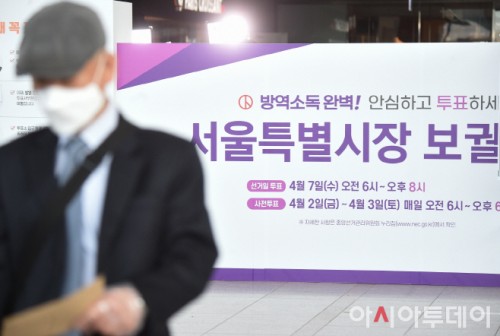 A voter cast his ballot at a polling station at Seoul Station in central Seoul on the first day of the two-day early voting period ahead of the April 7 by-elections on April 2, 2021./ Photographed by Jung Jae-hoon
AsiaToday reporters Jeong Geum-min & Lee Yoo-jin
With two days left before the April 7 by-elections, both the ruling Democratic Party (DP) and the main opposition People Power Party (PPP) claimed that the highest-ever early voting turnout of 20.54 percent would work to their advantages.
However, experts say it remains to be seen how the high turnout will work for each party, and the last remaining variable is how many supporters each party could actually lead to the polling stations.
Experts say that the opposition holds a sold advantage in popular support in recent public opinion polls, but the last-minute variable is how many supporters of the ruling bloc can unite.
About 1.84 million eligible voters in Seoul, or 21.95 percent of the total 8.42 million, cast their ballots in the Seoul mayoral by-election during the two-day early voting period, according to the National Election Committee (NEC). The latest figure is higher than the number of 19.1% and 11.14% for the local elections in 2018 and 2014, respectively. Both the ruling and main opposition parties claimed that the high early voting turnout is advantageous to them.
"The high early voting turnout showed the ruling party supporters' solidarity," said Heo Young, the spokesperson of the ruling camp's election committee. "Among the 25 district offices, the region with the highest early voting turnout was Jongno followed by Dongjak, Songpa, Seodaemun and Seongbuk. Many of these regions are generally in favor of the ruling Democratic Party," Kim Young-bae, head of the ruling bloc's Camp Strategy Headquarters, wrote on his Facebook account. "This is like deja vu of the local election in 2010. Park Young-sun will win if you vote," he wrote.
The ruling party has seemingly expressed its anticipation for reversing the situation, citing the case of the Seoul mayoral election in 2010, when former Prime Minister Han Myung-sook fell behind Oh Se-hoon by nearly 20 percentage points in polls and the gap narrowed down to 0.6 percentage points on the election day.
However, the main opposition bloc predicted an overwhelming victory, claiming that most votes had already inclined toward the opposition. "The long line for early voting despite bad weather and the risk of COVID-19 infection showed the public's strong expression against the current administration," said Bae Joon-young, the spokesperson of the PPP's election committee. "We can feel the young generation's anger at polling stations. They actively took part in casting their ballots," an official of Oh's camp said.
However, experts point out that it is difficult to predict the election result because early voting turnout of last year's general election was 26.7%.
"We can say that the high early voting turnout means that DP supporters actively took part in casting their ballots," said Bae Jong-chan, director of Insight K, in a phone interview with AsiaToday. "However, I believe that the PPP supporters cast their ballots on early voting period more than before. If the final voter turnout is as low as 45%, it would work more advantageous to the DP. If the turnout is as high as 55%, it would work more in favor of the PPP."