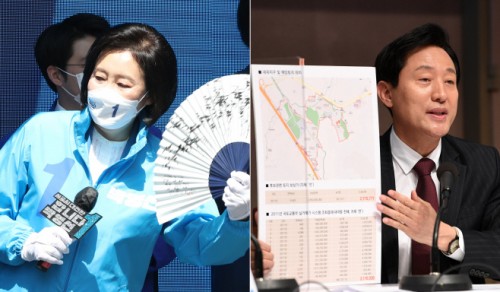 Park Young-sun, former minister of SMEs and startups, and Oh Se-hoon, former Seoul mayor/ Source: National Assembly Press Corps
AsiaToday reporters Jeong Geum-min & Kim Youn-ji
Only six days are left ahead of this year's Seoul and Busan mayoral by-elections set to be held on April 7. The people's choice remains in fact, as early voting will be held on Friday and Saturday. From Thursday, results of public opinion polls for the election will be prohibited to be released until voting ends.
Ahead of one day before early voting, poll experts revealed their electoral prospects and last-minute variables. For the last-minute variables of the by-elections, the experts picked turnout by generation, actual turnout of active supporters, swing voters' votes, and President Moon Jae-in's approval rating.
Most of all, they believe that candidates from the conservative main opposition People Power Party (PPP) are leading their rivals from the ruling Democratic Party (DP) for both of the Seoul and Busan mayoral seats. However, they predicted that candidates with stronger organizational power would be advantageous if voter turnout is significantly lower. The ruling DP occupies 41 of the 49 district seats in Seoul, 24 of 25 ward heads, and 101 of 109 members of the Seoul City Council.
However, the main opposition PPP, which enjoys strong support from voters in their 20s, 60s and older, as well as those living in Gangnam region in many opinion polls, is encouraging their supporters to vote by exercising its organizational power. Experts say the PPP's organizational power should not be ignored.
The turnout rate by generation should be also closely watched, experts say. While Oh Se-hoon, the unified opposition candidate, is receiving strong support from young people in their 20s in recent opinion polls, the question of how many of them would go to cast their ballots on election day is one of the key variables. Another variable is the turnout rate of those in their 40s, who are mostly supporters of the ruling DP, as the elections are being held on a work day, not on a public holiday.
"Voter turnout is very important during the period when public opinion poll results are banned to be revealed," said Bae Jong-chan, director of Insight K, in a phone interview with AsiaToday. "Most of all, voter turnout by generation has a great influence on the election outlook," Bae said. "Polls are conducted assuming 100% voter turnout, and actual turnout is not reflected," he added.
"Voter turnout by generation is the key," said Kim Mi-hyun, director of R&Search. "If the election sees high turnout, the opposition bloc is likely to win. Many senior voters, who that have little trust in early voting system, revealed in many polls that they would cast their votes on election day," Kim said.
Experts defined the upcoming elections held at the end of the Moon Jae-in's term as a confrontation between those who want to judge the current administration and those who want to help the administration continue to conduct state affairs stably.
"The approval ratings of the candidates for the Seoul and Busan mayors are similar to that of President Moon Jae-in for the performance of state administration," Bae said. "In order to turn the election table, Moon's approval rating should rise up to 40 percent within a week. This is in line with the reason for the government introducing strong measures."