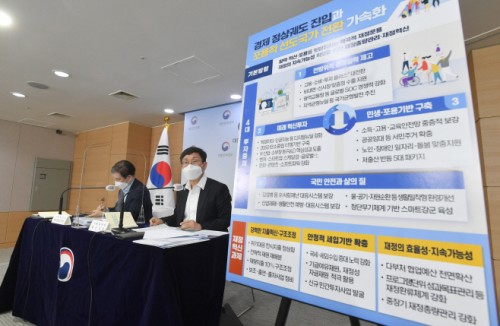 Ahn Do-geol, a senior ministry official in charge of budget affairs, explains key points of the 2022 budget guidelines at a press briefing held at the government complex in Seoul on March 26, 2021./ Source: The Ministry of Economy and Finance
AsiaToday reporter Lee Ji-hoon
South Korea's state budget is likely to exceed 600 trillion won next year as the government has decided to maintain its aggressive fiscal management to revive the sluggish economy hit by the COVID-19 pandemic. Meanwhile, the government decided to reduce 10 percent of nonessential spending in order to improve its fiscal health.
The Ministry of Economy and Finance announced Tuesday that the Cabinet approved its 2022 budget guidelines. Each government offices are required to draft their budgetary proposals and submit them to the finance ministry.
The ministry said it will expand fiscal spending next year to revitalize economic activity, invest in future-oriented sectors, enhance the social safety net and guarantee people's safety and quality of life.
As the government unveiled its aggressive fiscal management policy, another mega budget is expected to be formed next year. It drew up a record 558 trillion-won national budget for this year, up 8.9 percent from 512.3 trillion won last year. Under the 2020-24 fiscal management plan unveiled last September, the government had predicted the growth rate of its total expenditure at 6 percent for next year, which is 591 trillion won. Considering the trend of total expenditure over the last three years however, the budget for 2022 is likely to exceed 600 trillion won.
"It is difficult to predict the growth rate of next year's total expenditure at the moment," Ahn Do-geol, a senior ministry official in charge of budget affairs, said at a press briefing. "It will be decided at the final stage of preparing the government budget through an intermediate inspection stage considering the overall economic and COVID-19 situations."
However, the government decided to cut down 10 percent of nonessential expenditure to avoid deterioration of the country's fiscal soundness due to mounting national debt. The government, which saved about 10 trillion won in this year's budget by cutting down expenditure, aims to cut down 12 trillion won next year. It plans to either grant incentives or impose penalties depending on the performance of voluntary restructuring by each ministry.
Meanwhile, next year's budget will focus on investing in future-oriented sectors and resolving polarization.