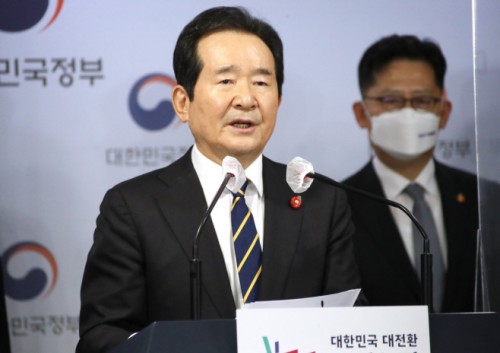 Prime Minister Chung Sye-kyun announces the government's anti-real estate speculation measures at Government Complex Seoul on March 29, 2021./ Source: Yonhap News
AsiaToday reporter Lee Jang-won
The government has decided to scrutinize illicit real estate transactions by government officials and employees of public institutions nationwide and impose punishment against those found to have carried out speculative land deals. In the case they are found guilty of a crime, they would be required to return to the state up to five times the profits they earned while their speculative farmlands will be disposed by legal force. To root out property speculation, the government plans to launch a real estate transaction analysis institute and an investigation department for probing real estate speculation cases.
Prime Minister Chung Sye-kyun announced the government's anti-real estate speculation measures during an anti-corruption policy meeting presided by President Moon Jae-in at Government Complex Seoul on Monday.
"We will establish pan-government response system to thoroughly find out illegal activities to impose punishment against them," the prime minister said. "We will mobilize all of our capabilities, including the police, the prosecution, the National Tax Service, and the Financial Services Commission."
Chung said that any government officials involved in real estate speculation will face the maximum penalty allowable by law. "All the unfair gains they earned from speculations will be confiscated," he said. "They will be required to pay fines of up to five times their illegal profits, and their farmland aimed for speculation will be forcibly disposed."
The government decided to expand the number of personnel for real estate investigation to more than 2,000. The government's workforce at the joint special investigation headquarters will double to 1,500. More than 500 prosecutors and their assistants will be deployed for 43 prosecutors' offices across the nation to help the joint state investigation.
The prosecution is also expected to investigate cases directly. "The prosecution will actively and directly investigate cases related to the six serious crimes under its jurisdiction," the prime minister said.
The National Tax Service will set up a special investigation team to respond to real estate tax evasion. It plans to conduct a tax audit for suspected real estate tax dodgers, and verify all persons involved in land transactions in a planned large-scale development areas nationwide. The Financial Services Commission is planning to form a special team to keep track of any illegal signs of capital flow into real estate markets.
The government plans to make property registration mandatory for all public officials and restrict real estate-related civil servants from requiring new real estate. It plans to set up a dedicated investigation team to monitor real estate transactions regularly.