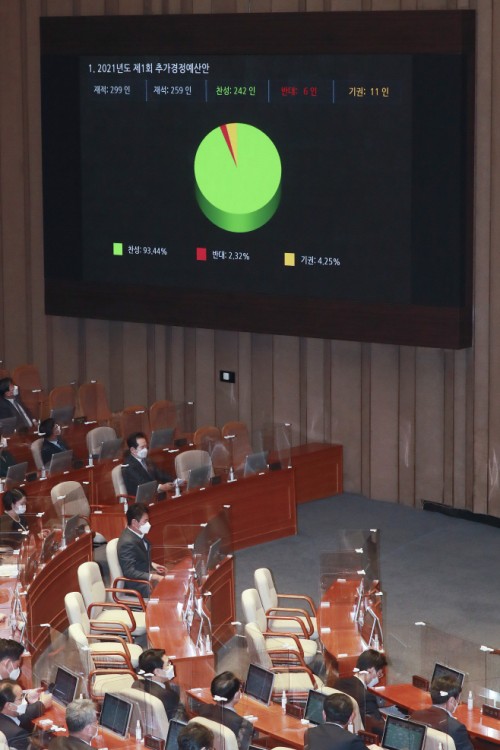 The extra budget bill being approved at a plenary parliamentary session on March 25, 2021./ Photographed by Lee Byung-hwa
AsiaToday reporter Lee Jang-won
The National Assembly on Thursday approved a supplementary budget bill worth nearly 15 trillion won that includes the country's fourth round of emergency relief assistance aimed at helping those hit by the COVID-19 pandemic. While reducing support for existing projects, the budget bill increased the amount of support for small business owners, self-employed as well as agriculture, forestry, fishery and transportation industries. The latest aid package amounts to 20.7 trillion won in total. The government plans to distribute the new round of relief assistance within this month.
The parliament held a plenary session to endorse the bill, in a 242-6 vote, with 11 abstentions. The approved extra bill increased 1.4 trillion won by increasing support for agricultural and fisheries sectors as well as charter buses and small business owners while reducing the amount worth of 1.4 trillion won set aside for small business loans and employment measures.
Nearly half of the new supplementary budget, or 7.3 trillion won, was allotted for small businesses and the self-employed who suffered sales due to strict social distancing guidelines, including those in the travel and performing art sectors. Up to 5 million won will be provided to each small merchant negatively impacted by the pandemic.
One-point-one trillion won will go to support vulnerable employees and 2.5 trillion won will be spent for emergency employment measures while 4.2 trillion won will cover the costs of the national COVID-19 vaccination program and other quarantine measures. Income stabilization fund of 700,000 won will be provided to 35,000 charter bus drivers.
To support agriculture and fisheries, the country will provide 1 million won worth of vouchers to 32,000 households hit hard by the social distancing schemes. The country will hand out additional 300,000 won to 460,000 farmers owning arable land less than 0.5 hectare.
The government held a special Cabinet session later in the day presided over by Prime Minister Chung Sye-kyun and approved the extra-budget bill. The prime minister ordered the relevant ministries to speed up the execution of the project so that people could receive support as soon as possible.
"We must provide sufficient support to those hit hard by the pandemic, minimize blind spots in terms of aid provision and implement effective measures to speed up the recovery of the economy and people's livelihoods," Chung said during the Cabinet meeting.