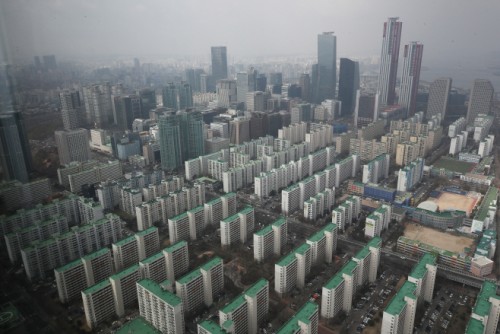 A view of apartments from 63 Sky Art of 63 City in Yeouido, Seoul./ Source: Yonhap
AsiaToday reporter Lee Wook-jae
Amid growing public interest in land speculation in the third new town sites, property assets of major public officials in the administrative and legislative branches have been revealed on Thursday. Attention is particularly paying attention to the details of property assets owned by public officials due to the recent land speculation scandal.
According to the disclosed property details, it was found that half of the central government officials owned land and some of the metropolitan and local district council members owned property located near the development area involved in land speculation controversy.
According to the regular report on property changes in 2021 released by the Government Public Official Ethics Committee on Thursday, 388 (51.1%) of the 759 central government officials who disclosed their properties reported that they owned land.
The total amount of land property was estimated at 100. 78 billion won. Among 95 public officials owning land in the capital area, 17 (2.2%) owned land located in new towns. The total land assets of the capital area were estimated at around 43.3 billion won.
Among senior Blue House officials, presidential secretary for political affairs Choi Jae-sung was found to be the only one who owned land near the third new town sites. Choi's spouse owned a forest area in Sudong-myeon, Namyangju-si, Gyeonggi Province. However, the land is not located in Wangsuk-dong of Namyangju-si, which has been designated as one of third new towns.
It was found that most of the presidential staffs owned real estate in Seoul. Besides, the number of multi-home owning staffs, which accounted for nearly one third in total last year, has decreased significantly. It seems many of them followed the presidential office's recommendation of single house ownership last year.
Among minister and vice ministers, Interior and Safety Minister Jeon Hae-cheol, Agricultural Minister Kim Hyun-soo, and Trade, Industry and Energy Minister Sung Yun-mo owned real estate in Gyeonggi Province. However, none of them owned properties in new towns.
In the case of Gyeonggi Province where third new town speculation scandal was raised, 29 (20.5%) out of 141 provincial council members reported that they owned real estate worth more than 1 billion won. However, no council members reported that they owned land in third new town sites.
In the case of Sejong City, which is designated as overheated real estate zone, 12 out of 18 members of city council owned land in the form of rice fields, orchards, and forests.