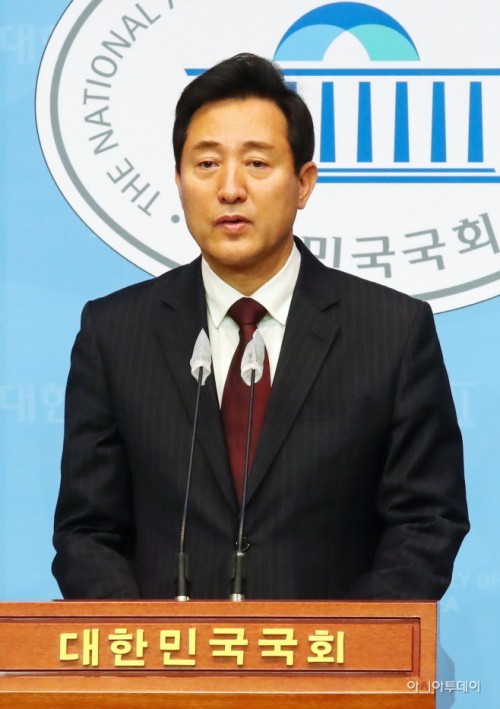 Oh Se-hoon, the Seoul mayoral candidate of the People Power Party, speaks during a press conference at the National Assembly in Seoul on March 23, 2021, after he was elected as the single candidate for the pan-opposition bloc./ Photographed by Lee Byung-hwa (photolbh@)
AsiaToday reporters Jo Jae-hak & Kim Yeon-ji
Oh Se-hoon of the main opposition People Power Party (PPP) has become the single unified candidate of the country's conservative opposition bloc Tuesday for the April 7 Seoul mayoral by-election, beating his rival Ahn Cheol-soo of the minor opposition People's Party in a public opinion survey. Oh will be competing against Park Young-sun, the candidate from the ruling Democratic Party (DP) for Seoul mayor.
The working-level negotiating team of the parties announced the result of the poll conducted early this week on the candidates' suitability and competitiveness to represent the conservative opposition bloc. Experts say Oh's victory is the result of strategic judgment of swing voters who yearns for the 'ruling opposition party premium' and judgement against the Moon administration.
Oh served as a mayor from 2006 to 2011, but stepped down in the second year of his second four-year term after his push for a selective free school lunch program was rejected through a residential referendum. Now, he is aiming to clinch the position as Seoul mayor again a decade after his resignation.
"I will definitely accept the strict orders by citizens to judge the (Moon Jae-in) government through unification (of the country's conservative opposition bloc) and open the way for regime change," Oh said in a press conference held immediately after the poll results were announced.
"I have lived with a heavy heart over the past 10 years," Oh said. "I would like to unload this heavy burden in my heart and ask for your support until the day of the election so that I can reward you with a new Seoul city that will move forward once again."
"I would also like to offer my consolation and gratitude to candidate Ahn Cheol-soo. We faced each other in the battle of unification. But I ask you for your support in the war against the ruling camp leading up to Judgment Day," he said.
Ahn formally accepted his loss and pledged his support for Oh's election campaign. "I ask (Oh) to win (the mayoral election) without fail so that a judgment can be handed out against the Moon government," Ahn said in a separate press conference.
As Oh has been become the single candidate in the opposition bloc, he is expected to compete against DP candidate Park Young-sun.
Park immediately criticized Oh, saying, "Now the picture has become clear. It's a choice between Seoul's future, Mayor Park Young-sun, and a worn and failed mayor," in apparent reference to Oh's failure to complete his mayoral term in office.