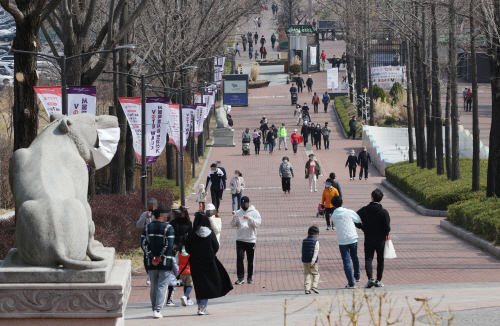 Visitors crowd Children's Grand Park in Gwangjin-gu, Seoul, on March 21, 2021./ Source: Yonhap
AsiaToday reporter Kim Ye-seul
South Korea's daily new coronavirus cases stayed in the 400s for a sixth day on Monday despite the country's vaccination push. The country's new virus cases continue to hover around 400 for two consecutive months, raising concerns over further spread of the virus with annual spring blossom festival season approaching.
The Korea Disease Control and Prevention Agency (KCDA) confirmed 415 new patients, raising a cumulative caseload to 99,075 as of midnight Sunday, despite fewer tests during the weekend.
The health authorities cited the increased movement of people as the cause of the spread of the infection. "The increase of people's movement in spring may be the cause of the increase in patients," said Yoon Tae-ho, a senior health official, in a recent briefing. "As it takes up nearly two months for antibodies to form, the number of patients may increase if we begin to let our guard down," Yoon said.
According to health authorities, the movement measured by mobile phones in the Seoul capital area on March 16 was 1.81 million, up 10.6 percent from 16.29 million a month ago. The movement is measured when a mobile phone user visits a new place and stays for more than 30 minutes.
The general movement of people is expected to further increase as cherry blossoms, one of the most beloved spring flowers in the country, are expected to be in full bloom in Jeju on March 24, and in Seoul and central region in early April. In fact, a substantial number of picknickers flocked to famous spring flower hot spots last weekend although almost all spring blossom festivals nationwide have been cancelled off or will be held in a non-face-to-face manner.
"Driving on my way home, I see every rape flower field crowded with tourists," a 50-year-old Jeju resident surnamed Kim said. "People would obviously visit Jinhae or Hangang Park when cherry blossom bloom."
Experts and health authorities are calling the public to comply with social distancing rules while warning of the possibility of a fourth wave of the pandemic. "More people are going to picnic as the social distancing rules have been eased and the weather is getting warmer. It is essential to keep basic quarantine rules such as wearing a mask," said Chun Eun-mi, a professor at the Ewha Womans University Medical Center.