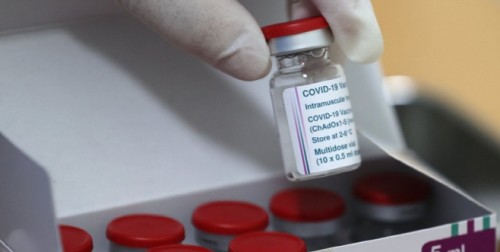 Vial of AstraZeneca COVID-19 vaccine/ Source: Yonhap
AsiaToday reporter Lim Yoo-jin
South Korean health authorities confirmed Wednesday the first case of blood clots in a patient who died after receiving COVID-19 vaccine manufactured by AstraZeneca. Key attention is now towards how the case would affect vaccinations in the future.
As more than 20 European countries have suspended the rollout of the vaccine over safety concerns, there are growing concerns about possible disruption of domestic vaccination plans depending on the results of the European Medicines Agency (EMA)'s investigations slated for announcement Thursday.
Jung Eun-kyeong, the Korea Disease Control and Prevention Agency (KDCA) commissioner, told a parliamentary committee for health and welfare Wednesday that a 60-year-old patient who died within days of receiving AstraZeneca vaccine is confirmed to have had blood clots.
Regarding the safety of the vaccine, the KDCA chief reassured the public that there have been no safety problems, saying, "All KDCA employees are receiving the vaccine. We will continue monitoring the vaccine's safety," she said.
Kim Joong-kon, a KDCA official, said there was no causal relation between blood clots and the AstraZeneca vaccine. "The patient had underlying disease for a long period of time," Kim said.
A number of European countries including Austria, Germany, France, and Italy have either fully or partially suspended the rollout of the vaccine as a precautionary measure following reports of blood clots in some recipients. Sweden also announced that it was pausing its rollout of the vaccine as a precautionary measure until the end of the EMA investigation. The EMA plans to hold a meeting on Thursday to make a decision.
However, the World Health Organization (WHO) and British-Swedish pharmaceutical giant AstraZeneca claim that there is no correlation between vaccines and reports of blood clots. "Many thousands of people develop blood clots annually in the EU for a variety of reasons," said EMA head Emer Cooke said. Cooke said a review of data has shown no evidence of an increased risk of blood clots, adding the benefits of the vaccine outweigh the risks.
Local experts say there is no proven evidence that the shots are related to the blood clots. "Correlation between vaccines and reports of blood clots have not been confirmed even in European countries that temporarily suspended the use of AstraZeneca's vaccine. They have suspended vaccination because of possible unknown situations," said Choi Won-seok, a professor at the Korea University Ansan Hospital, said in a radio show.
Health authorities say the rollout of the AstraZeneca vaccine will continue as planned because there is no clear reason to stop the vaccination, while keeping an eye on the EMA's conclusions.