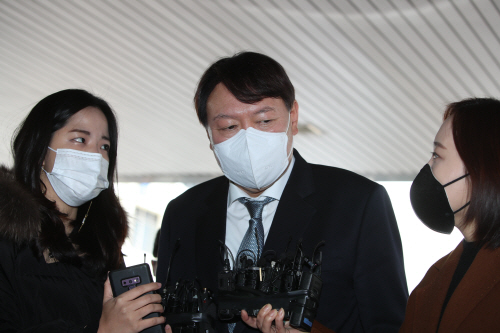 Prosecutor General Yoon Seok-youl answers reporters' questions on his way to visit the Daegu Prosecutors Office on March 3, 2021./ Source: Yonhap
AsiaToday reporter Heo Kyung-joon
Prosecutor General Yoon Seok-youl on Wednesday denounced the ruling bloc's push to create a new separate investigation agency, warning the move will lead to a "situation where corruption becomes more rampant."
Some observers say the top prosecutor's strong criticism against the establishment of a new investigation agency suggests that Yoon might be planning to run for the presidency.
However, Yoon avoided answering questions about whether he is planning to enter politics after his term ends, saying, "This is not the right place to talk about it." He did not respond to the possibility of resignation.
"(Creating such an agency) violates the spirits of the Constitution and is tantamount to a failure of a nation and the government to fulfill the Constitutional duty," he told reporters on his way to visit the Daegu Prosecutors Office.
"Corruption must be dealt with in accordance with the principles of legal step and guaranteeing the right to defend. It is only possible when investigation and trial activities in the court are organically matched," he said.
"Taking away investigative powers from the prosecution will lead to fully prevailing corruption, which violates the spirit of the Constitution and causes constitutional damage to the country and the government," Yoon said.
The prosecutor general said he would review to hold a meeting of the prosecutors' office when the opinions of the prosecutors' offices at various levels on the establishment of a new separate investigation agency are collected.
Previously, the Ministry of Justice had requested prosecutors' offices to gather their opinions after receiving a request from the National Assembly Legislative Judicial Committee to check opinions on a bill on the establishment and operation of a serious crime investigation agency, proposed by Democratic Party (DP) lawmaker Hwang Un-ha.
Within the prosecution, there is apparently considerable opposition to the establishment of a new investigation agency. Therefore, there is a possibility of Yoon delivering criticism of prosecutors on the creation of such agency after confirming opinions from prosecutors.