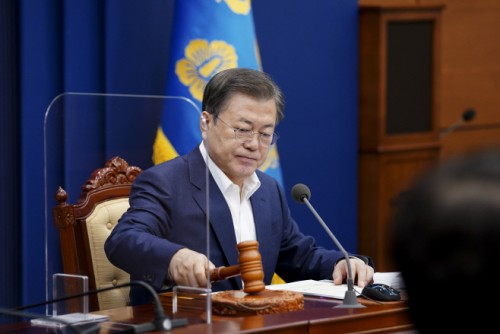 President Moon Jae-in presides over a Cabinet meeting at Cheong Wa Dae in Seoul on Mar. 2, 2021./ Source: Yonhap
AsiaToday reporter Lee Ji-hoon
The South Korean government has decided to inject 19.5 trillion won to lend a helping hand to some 6.9 million people who have suffered from the prolonged COVID-19 pandemic.
Presided over by President Moon Jae-in, a 19.5 trillion won disaster relief fund was approved at the Cabinet meeting held at Cheong Wa Dae on Tuesday.
"The reason for submitting a supplementary budget to the National Assembly in early March for two consecutive years is because issues rising from crises involving people's livelihoods and the job market are more serious than ever," Moon said during the Cabinet meeting. "The latest relief package reflects its will to help the nation overcome the crisis."
The latest package requires a 15 trillion-won extra budget, combined with the previously earmarked 4.5 trillion won.
Of the 15 trillion-won extra budget, 6.7 trillion won will be injected to support small business owners. The scope of recipients of the cash handouts will be expanded to 3.85 million businesses from the current 2.8 million beneficiaries. The maximum amount of support will be up to 5 million won per recipient. The relief package will newly include micro businesses with five or more employees as its benefiters as well as businesses with annual sales of less than 1 billion won, an increase from the previous cap of 400 million won.
Emergency relief checks will be provided to about 800,000 people vulnerable to job loss, including freelancers, and also to some 800,000 households in the marginalized working poor bracket. The government will provide 275,000 jobs for young adults, those in their 40s and 50s, and women. It will inject 4.1 trillion won to support antivirus efforts, including purchases of COVID-19 vaccines.
Moon pointed out that the latest relief package is the largest-ever cash aid of its kind intended to support the troubled brackets in a "broad and deep" manner, with special attention paid to minimizing "blind spots." He requested "swift discussion and consultation by the National Assembly so that the fourth round of disaster relief fund can be paid as early as possible."
However, the latest extra budget is expected to put huge burden on government's finances. This is because the government will issue an additional 9.9 trillion won in government bonds to finance the budget. As a result, the country's government debt is expected to reach 965.9 trillion won, while the country's debt-to-gross domestic product ratio is expected to rise to 48.2 percent this year.