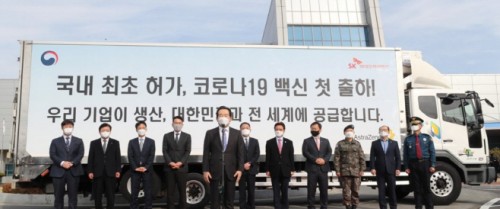 Prime Minister Chung Sye-kyun delivers a speech during a ceremony to mark the first shipments of AstraZeneca's vaccines at SK Bioscience Co. in Andong on Feb. 24, 2021./ Source: Yonhap
AsiaToday reporter Lim Yoo-jin
South Korea will launch its vaccination campaign against COVID-19 on Friday, health authorities said on Wednesday.
Prime Minister Chung Sye-kyun visited a drug manufacturing plant of SK Bioscience in Andong, which produces vaccines developed by British-Swedish pharmaceutical giant AstraZeneca. "Some 1.57 million doses of vaccines for inoculating 780,000 people under a full two-dose regimen will be delivered to some 1,900 long-term care hospitals and public health centers across the country for five days starting Wednesday," Chung said at a ceremony at the SK Bioscience celebrating the first shipments.
"We will surely achieve success in the government's vaccination program to recover the precious everyday life of the people stolen by COVID-19 as soon as possible," the prime minister said. "We hope the vaccines loaded on the trucks become the seeds that would blossom the spring of hope," he added.
The vaccine will be distributed to hospitals and other medical facilities nationwide on Feb. 25. Local governments plan to conduct a preliminary inspection of medical facilities for safe vaccination.
Vaccination registration will open on Thursday, where vaccine centers can check for those eligible to receive the vaccine, as well as input vaccination records after each jab. The AstraZeneca vaccine has to be administered twice and the health authorities are expecting this to be completed by June.
Chung tried to dispel concerns over the safety of coronavirus vaccines, saying that the issue of vaccines should be approached through the realm of science. "We hope you trust the government and actively join the vaccination program without concerns," Chung said.
Medical workers and elderly people at nursing homes are expected to get the first doses of the vaccine. "Residents and workers under the age of 65 in nursing hospitals and facilities nationwide are eligible for the first vaccination," KDCA chief Jeong Eun-kyeong said. A total of 289,271 people of the patients and people working at facilities including sanatoriums, nursing facilities and rehabilitation facilities, said they will receive the first shot of AstraZeneca's two full-dose regimen.