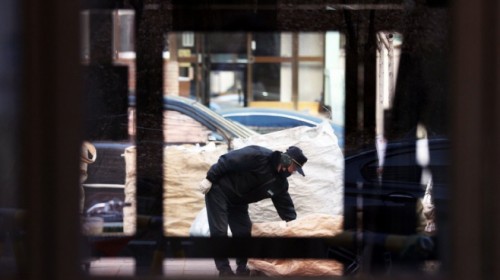 An apartment security guard separates trash at an apartment complex in Seoul./ Source: Yonhap
AsiaToday reporter Lim Yoo-jin
There are growing calls for countermeasures to protect apartment security guards as assaults and verbal abuse cases against them continue. Many of them are exposed to abuse, but they bottle up violence against them for fear of losing job.
According to legal community on Tuesday, a studio apartment security guard in his 70s was hit by a female resident in her 30s with her smartphone and a fire extinguisher when he did not open a parking lot breaker. When the guard asked for her apology, the resident kicked his thigh and yelled at him, "Do you want me to hit you again, you bastard?" The court sentenced her to one year in prison and arrested her in court for fear of fleeing.
Another apartment resident living in Ui-dong, Gangbuk-gu, Seoul, continued to bully an apartment security guard due to double-parking problem. The guard was taken to a toilet, imprisoned for 12 minutes, and beaten. After suffering mental pain, he committed suicide. His suicide has been recently recognized as an industrial accident by the Korea Workers' Compensation & Welfare Service.
Although many cases of "gapjil," or abuse of position, by some residents has recently been subject to legal penalties, some point out that they are still insufficient. There are many cases of verbal abuse and even physical assault.
One of the reasons for the constant assault case is job insecurity. Under the current fixed term employment act, employment type of a contract worker is converted to the unlimited term employment after 2 years of the fixed term employment except for workers aged 55 years or older. As a result, apartment security guards, often in their 60s to 70s, are forced to work as temporary workers.
The revised bill of the Enforcement Decree of the Apartment Housing Act, which prohibits 'gapjil' on apartment workers including security guards, is expected to take effect in May. However, many apartment guards ask for practical improvement of working environment. "I often meet young residents who get drunk and kick the door of the guard room at night, but it's not easy to raise the issue because my job depends on them," said a security guard in his 70s working in an apartment located in Yeongdeungpo-gu, Seoul. "I try to ignore the problem because I know I'm going to get fired if I fall out with them," he added.
According to a nationwide survey of apartment security guards released last November, 24.4 percent responded they were subjected to unfair treatment by residents while 11.1 percent said they have experience of being unfairly fired.