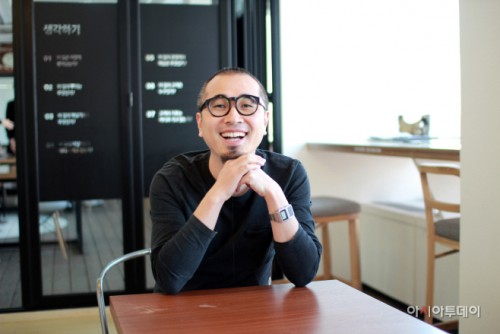 Woowa Brothers Chairman Kim Bong-jin
AsiaToday reporters Lee Soo-il
"I would be delighted if the dream I once had could be the dream of many more founders who are trying to change the world."
Kim Bong-jin, food delivery app operator Woowa Brothers founder and Chairman, made the remark after pledging to donate more than 500 billion won ($451 million) to society.
Kim's latest donation commitment came few days after the news that Kakao founder Kim Beom-su had promised to donate more than half of his assets, estimated to be more than 10 trillion won, to charity.
Woowa Brothers' Kim is the first Korean and the 219th person to join The Giving Pledge, a global campaign of the world's wealthiest people contributing a majority of their assets to philanthropic projects.
This is not the first time Kim pledged to donate. In 2017, he promised to donate 10 billion won for three years. Since then, from 2018 to 2020, more than 10 billion has been donated to foundations and associations such as the Fruit of Love, the Green Umbrella Children's Foundation, and the Korean Medical Social Workers Association.
Both Kakao and Woowa Brothers are companies that have stood out as leading companies amid fierce competition. Their leaders are willing to give their fortunes to solving problems across the society. The funding from Kim will be particularly used to address social issues such as educational inequality and assistance to art and cultural activities.
Donations from entrepreneurs are actively taking place abroad. Microsoft founder Bill Gates and Berkshire Hathaway CEO Warren Buffet pledged to donate 95 percent and 99 percent of their wealth to charity, respectively. As their personal wealth is currently about $124 billion and $81.2 billion, respectively, according to Bloomberg Billionaires Index last August, up to 100 trillion won or more will be spent to solve social issues. Woowa Brothers' Kim had read an article about Bill Gates and Warren Buffet making the pledge and had a dream of one day making the pledge himself.
"As John Rawls put it, I think the value shines even more when the wealth is shared according to the principle of maximizing the improvement of the least-advantaged group in society," Kim said.
Some say the charitable donations could become a turning point in Korean society. "As social leaders have announced that they will donate a significant amount of their assets, if will be an important starting point for positively changing the perception of donation and spreading it to society," said Oh Il-sun, director of the Korea CXO Institute.
In fact, Kim stressed that making a donation pledge of 10 billion won in 2017 and having kept that promise was the best decision of his life. "We are certain that this pledge is the greatest inheritance that we could provide for our children," he added.
Some point out that the government first needs to change the tax system in order to stimulate charitable donations. This is because donations may be recognized as a gift or may be used differently from the donor's will after the donation.
A good example is the donation case of late Hwang Pil-sang, founder of local periodical Suwon Kyocharo. In 2018, Hwang donated 18 billion won to his alma mater Ajou University by setting up a scholarship foundation. However, the tax authorities judged the donation as a gift and imposed 14 billion won in gift taxes on the foundation. After years of legal prevarication, it was settled after the Supreme Court took the foundation's side. But since then, many have voiced the need to revise the tax law.