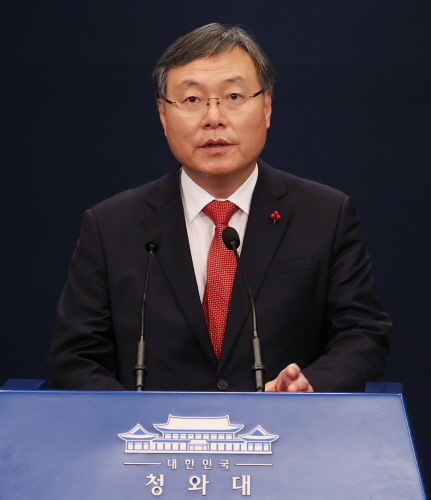 Shin Hyun-soo, the senior secretary for civil affairs, speaks during a press conference at the presidential office Cheong Wa Dae on Dec. 31, 2020./ Source: Yonhap
AsiaToday reporters Lee Wook-jae & Kim Hyun-goo
Shin Hyun-soo, the senior presidential civil affairs secretary who offered to resign after being appointed to the post less than two months ago, has taken two vacation days starting Thursday to take time to reconsider his resignation.
As Shin remains adamant about resigning despite President Moon Jae-in's repeated efforts to dissuade him, there are growing concerns about the possibility of another conflict between Cheong Wa Dae and the prosecutor's office in the second half of Moon's presidency. Shin has been showing difference with new Justice Minister Park Beom-kye over the latest reshuffle of senior prosecutors.
"Shin has taken two vacation days Thursday and is set to return to work on Monday after taking time for consideration," a senior official at the presidential office told reporters Thursday.
Shin offered to resign around last week's Lunar New Year holiday, and remains intent on stepping down although Moon rejected the resignation. Cheong Wa Dae's approval of Shin's vacation indicates that it has given Shin time for reconsideration. As a result, Shin is expected to make his final decision next week.
Cheong Wa Dae seems bewildered over Shin's resignation. It's because his decision involves prosecution-related issues which lowered presidential approval rating and led to decline in the power of state administration. That's why there are concerns that the presidential office may face another conflict between the Ministry of Justice and the prosecution.
If the prosecution related issue emerges again, it could shake Moon's political initiatives which focus on recovering people's livelihood. Since it could also have an impact on the April 7 by-elections, the ruling Democratic Party (DP) is keeping an eye on the situation.
A senior Cheong Wa Dae official said he hopes Shin comes back after taking enough time for reconsideration. Lee Nak-yon, head of the DP, hoped for a quick settlement of Shin's resignation offer issue. Some DP lawmakers have reportedly contacted Shin to advise him to change his mind.
The justice minister expressed regret over Shin's resignation offer, saying he feels "saddened" and vowing to strengthen communication with presidential aides over key ministry affairs. "I am willing to have more meetings with him. I hope Shin will continue to serve as Moon's senior secretary for civil affairs and work together with me," the minister said.