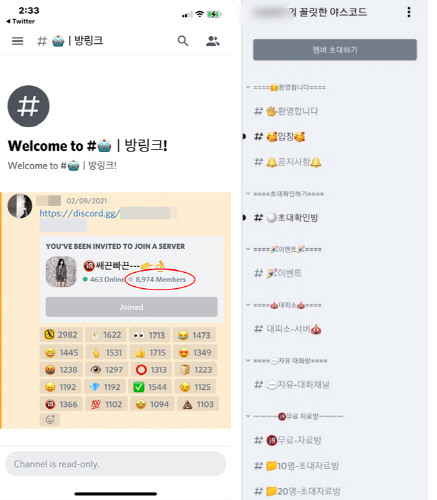 A sexual exploitation material sharing room operated in Discord. It has nearly 9,000 members./ Source: A screenshot of Discord chat room
AsiaToday reporter Kim Ye-seul
Nth room case is a massive digital sex crime and sexual exploitation operated on messaging app Telegram that ignited public anger last year. Another messaging app called Discord is seemingly being used as a crime platform for sharing illegal filming materials
Discord is a video game-focused voice and chat app that is as familiar to gamers as KakaoTalk. Since it is considered as safe as Telegram for privacy, it is often used as a platform for sharing illegal video games among game users.
AsiaToday found out through an undercover report Wednesday that Discord was operating sexual exploitation material sharing rooms similar to Nth rooms ill-using its excellent security. There are currently nearly 9,000 users participating in the room. Users must have an invitation to enter such chat room within Discord. Invitations are made via other social network services such as Twitter, or through acquaintances.
Like the Nth room, the price of pornography distributed in Discord varies by type and capacity, and users can access to different types of pornography according to their membership level. During the recent Lunar New Year holiday, there was even a discount event telling users, "Purchase with pocket money you got from the Lunar New Year."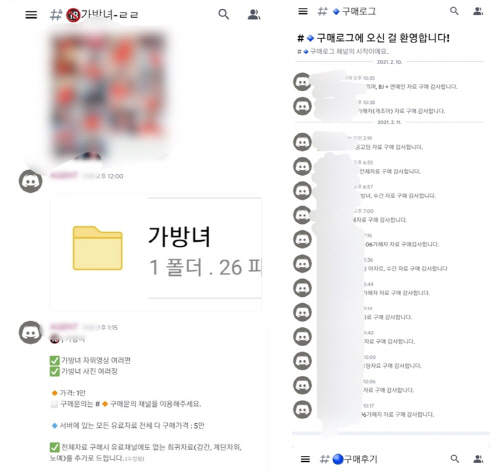 The image on the left shows a channel operator selling videos of an elementary school girl. The image on the right shows reviews left by users who purchased the content./ Source: A screenshot of Discord chat room
Within a channel, there are various types of rooms, such as invitation material room, free/paid material room, and more. In the invitation material room, the more user you invite, the more revealing material you are allowed to access. In the paid material room, video clips of elementary, middle and high school students as well as manipulated videos called deepfakes were available for sale.
In the free material room, people's photos, sex videos, and even deepfakes were being shared. Some users left reviews after trading illegal sexual materials.
A channel operator was selling videos of an elementary school girl. "If you buy the material, I will give you rare materials involving rape and slavery. If you pay 20,000 won more, you can get materials without mosaic," the operator said.
It was revealed that channel operators shared 'shelter address' to members in case of the server being blown up. It means they have repeatedly exploded rooms and reopened them to avoid the police investigation.
This is not the first time that pornography has been shared via Discord. Last April, the police arrested 10 men for spreading illegal sexual content of a sexual nature via Discord.
The Gyeonggi Bukbu Provincial Police Agency had been designated as 'Discord-dedicated regional office' to crack down on the distribution of illegal pornography. But the special crackdown period ended last year, and many illegal materials are being shared via Discord again. "
"The Discord incident shows how meaningless the intensive crackdown period is. A new system for regular crackdowns and undercover operation should be set up," said Lee Soo-jung, a forensic psychology professor at Kyonggi University. "The government's temporary measures cannot protect women and children from such crime. Digital sex crimes are growing at a rapid pace, but police investigations have not been able to catch them up."