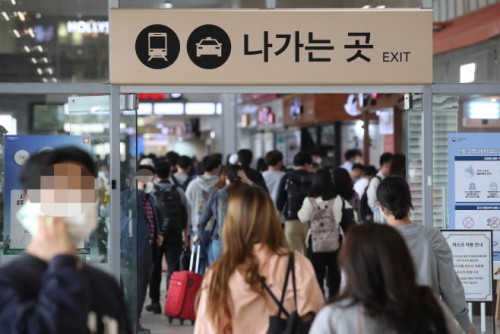 The image shows an express bus terminal in Seoul with people returning to and from their hometowns on the last day of Chuseok holidays, or Korean Thanksgiving Day, on Oct. 4, 2020./ Source: Yonhap
AsiaToday reporter Woo Sung-min
"It's okay not to come home in the upcoming Lunar New Year holiday. Stay healthy!"
Mr. Choi, 68, instructed his son not to come home in a 10-minute-long video call Tuesday ahead of the Lunar New Year. This is the second time canceling family gathering since last year's Chuseok harvest festival. He is anxious to see his son, daughter-in-law and his grandsons, but the fear of the pandemic has forced him to cancel plans for family gatherings during the upcoming holiday this year.
Millions are expected to cancel family gatherings during the upcoming Lunar New Year holiday at the government's ban on gatherings of five or more people to prevent the virus' spread. Brief video calls are expected to replace day-long family gatherings during the upcoming holiday. "I don't want to go hometown because I'm afraid my visit could put my parents at risk," said Mr. Kim, a 46-year-old Seoul resident.
COVID-19 has changed the scenery of this year's Lunar New Year holiday following last year's Chuseok holiday. As family gatherings are no longer possible due to the pandemic, there's a new culture of performing ancestral rituals online. The younger generations of the family pay respect to their elders by taking a deep bow called sebae, and the elders often give children sebaedon (New Year's money) as a gift. This year, there is an increasing number of people doing sebae via video calls, and transferring sebaedon via mobile phones. There is also a growing number of people performing ancestral rites online. For example, families are sharing online family photos and writings about their deceased relatives. The health ministry is providing an online memorial service to remember the dead.
The Lee brothers, who live in different parts of the country, normally spend the Lunar New Year together to perform ancestral rites. But this year, they decided to perform online ancestral rites because the country has banned gatherings of five or more people across the country. "I've always told my younger brothers that we should spend time together during big holidays, but it seems like we have no option this year," said Lee Won-kyu, the eldest brother.
Due to the government's unprecedented guidelines, the form of visiting hometown during the holiday season is also changing. In order to meet the guidelines allowing private gatherings of up to four people, many couples are choosing to meet their own parents only. "My brother-in-law will visit his parents by his own, so my husband and I decided to greet our own parents separately," said Kim Soo-young, a 35-year-old woman living in Anyang, Gyeonggi Province.
While many people avoid family gatherings these days, there are still other people who think family gathering is a must during the holiday season, leading to conflicts between families. "My parents tell me come their home saying it's okay. My kids are young, but they don't seem to worry about their grandchildren," said Mrs. Lee, a 37-year-old living in Seoul.
In online community boards, many daughters-in-law are posting complaints toward in-laws. "My in-laws say I must visit them this year. I hope someone reports it to the police," an online user said in a post. "My parents called me in advance not to come home. I wish my in-laws call me not to come home," another online user said.
Mr. Seo, a 27-year-old jobseeker, finds it not so bad about the government's ban on gatherings of five or more people, because it allows him to concentrate on preparing for employment without getting caught up in the holiday mood or getting stressed. As for Lunar New Year, young people often find it tedious because relatives often ask intrusive questions about their careers and relationships. "I was often under pressure by relatives every holiday season because they always asked me about my employment situation. It's a good thing I can study without getting stressed during the upcoming holiday season," Seo said.
Nearly half of people in their 20s and 30s have no plans to return home during the upcoming Lunar New Year holiday, a recent poll showed. According to a survey on 400 singles aged between 20s and 30s single from January 20 to 25 by matchmaking company Duo, 44.8 percent said they have no plans to return home during the upcoming holiday season. Among them, 72.6 percent said they plan to take rest at home.