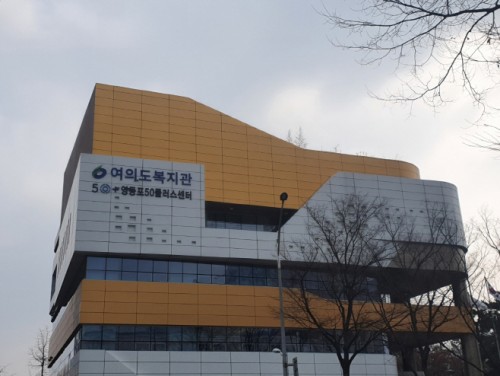 The image shows the Yeouido Welfare Center, where the Seoul 50 Plus Center, a senior welfare center and a daycare center are located. /Photographed by Lim Yoo-jin
AsiaToday reporter Lim Yoo-jin
The Lunar New Year holiday is coming. While the pandemic has been challenging for everyone everywhere, more efforts are needed to look around civil in need of assistance. February is still bitterly cold, but there are people who are busy taking care of neighbors left behind from the welfare ahead of the upcoming holiday. They are social welfare civil servants who make efforts to discover people in need who find themselves in welfare blind spots and help them receive benefits. We will highlight the hard work of welfare officials who are working diligently in difficult conditions for a warm Lunar New Year holiday.
Recently, many Koreans were shocked by a tragedy of a disabled man in his 30s and how his mother's dead body was left unnoticed for five months in Bangbae-dong, Seoul. Now there are growing calls that the blind spot for welfare should be more actively discovered. Since the 2014 tragedy of a family consisting of two daughters and their mother who committed suicide due to economic difficulty, similar incidents are still occurring.
The Seoul city government recently revealed that it will abolish a support obligation from the basic support obligation system in order to resolve the welfare blind spot. With the abolition of standard for support obligators, low-income vulnerable groups will be able to receive support for living expenses as long as they meet income and property standards, even if they have support family.
However, there are growing calls for effective measures to lower welfare standards as well as system improvement. As leading causes of many tragedy involving welfare blind spots are the high standard of public protection system and the lack of social welfare personnel, many point out that it is time to look for comprehensive measures.
"It is necessary to develop a new type of volunteer activity tailored to the individual characteristics of seniors, such as volunteer activity for information disadvantaged elderly," said Choi Eun-young, director of Seongkajeong Senior Welfare Center. "Since the pandemic began, we have been providing both face-to-face and non face-to-face services. The institutional-oriented support system is turning into personal human services and community-oriented system," Choi said.
Some point out that specific consultation is needed to associate the welfare system and manage it because the vulnerable class may not properly recognize one's own situation. In the case of the disabled son in Bangbae-dong, he needed a test fee of millions of won for medical records for more than 6 months and a doctor's written diagnosis proving his disability. It was too difficult for the mother and son in a welfare blind spot to prove the disability.
Many also point out that the fundamental problems of welfare blind spots will not be solved without efforts of welfare civil servants. As a result, measures to increase the sensitivity of welfare are being drawn up through services that find the direction of social welfare. "Most of welfare services have been provided at welfare centers. But these days, we focus more on supporting individual activities of social welfare workers in various parts of the community," Choi added.