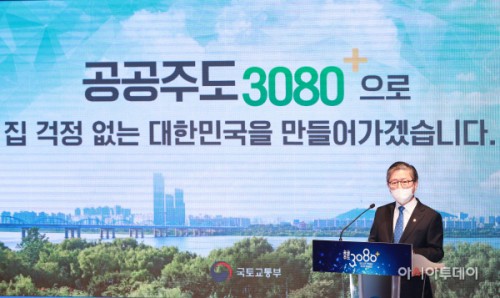 Land, Infrastructure and Transport Minister Byeon Chang-heum holds a press conference at the government complex in Seoul on Feb. 4, 2021m to announce its massive home supply plan./ Source: The Ministry of Land, Infrastructure and Transport
AsiaToday reporter Lee Chul-hyun
The South Korean government plans to build 320,000 new houses in Seoul and 830,000 nationwide by 2025. Together with housing plans announced last year, the number of new units across the country will rise to over 2 million, the largest supply plan under the Moon Jae-in administration. The proposed amount of houses in the capital is equivalent to three times the number in Bundang New Town and about the same as the number of units in three districts in southern Seoul combined.
The Ministry of Land, Infrastructure and Transport on Thursday announced its real estate plan dubbed 'Public-led 3080-plus' at Seoul government complex in Jongno, Seoul.
The government plans to provide sufficient housing through redevelopment of housing areas and securing new housing sites.
Over the next four years, the government plans to secure new housing sites for a total of 836,000 housing units, including 616,000 units in the capital area. First of all, the government will temporarily carry out its 'urban public housing complex project' for three years to redevelop areas near subway stations, semi-industrial districts and low-rise buildings.
Once landowners, private enterprises and local governments propose redevelopment plans on underdeveloped sites to the state-owned Land and Housing Corporation (LH) or Seoul city government-owned Seoul Housing and Communities Corporation (SH), the sites can be designated as planned districts after government review. The project will be confirmed if more than two-thirds of the land owners agree within a year.
The government will encourage redevelopment of areas with many low-rise buildings near subway stations by raising the residential floor area ratio to up to 700 percent, which will allow developers to construct buildings higher.
For low dense semi-industrial districts that have been developed mainly for manufacturing and distribution, the government will establish 'residential industrial convergence district' that combines sites for fostering startups, R&D centers, youth dormitory and residential complex.
For aged low-rise residential districts, the government will create 'housing supply revitalization districts' by easing architectural and urban regulations.
For small-scale sites in subway stations and semi-industrial areas, the government plans to revitalize housing supply by carrying out its 'small-scale redevelopment project'.