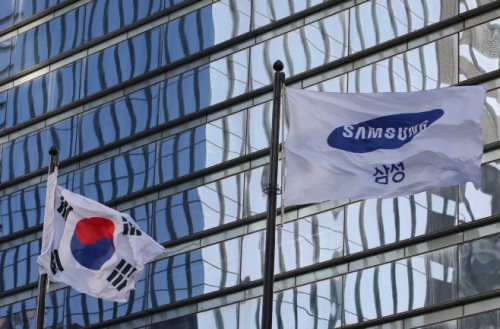 Source: Yonhap News
AsiaToday reporter Hong Sun-mi
Samsung Electronics enjoyed its fourth largest profit in 2020 despite the pandemic situation and the trade conflict between the US and China.
Unlike its less-than-expected earnings in the first two quarters of 2020 due to the impact of the pandemic, the tech giant benefited from pent-up demand in the third quarters, which led to higher sales of semiconductors, consumer electronics and smartphones.
Samsung Electronics will conduct large-scale facility investments in semiconductor sector such as foundry business for the next three years. In addition, it announced that it would clinch merger and acquisition (M&A) deals in the semiconductor sector, suggesting that much of the preparation has been made. It is the first time that Samsung officially announced its M&A plan since it acquired Harman in 2017.
Samsung's operating profit in 2020 stood at 35.99 trillion won, marking a 29.62 percent on-year increase, according to the company on Thursday. Its revenue reached 236.8 trillion won last year, a 2.78 percent jump from 2019. It is the fourth time that Samsung achieved an annual operating profit of more than 35 trillion won. Its annual revenue is the third largest since its foundation.
By business division, Samsung's digital solution (DS) business unit logged 103.4 trillion won in revenue and 21.12 trillion won in operating profit in 2020, up 8 percent and 5.54 percent from the previous year, respectively. The tech firm's IT and mobile communication (IM) division, in charge of the mobile business, posted sales of 99.59 trillion won, down 7 percent from a year earlier, while the unit's operating profit rose 2.2 percent to 11.47 trillion won. The sales and operating profit of the consumer electronics (CE) business unit stood at 48.17 trillion won and 3.56 trillion won, respectively, up 6 percent and 1.05 percent year-on-year.
Samsung Electronics said its facility investment in 2020 reached a total of 38.5 trillion won, up 43 percent from a year ago, which includes a 32.9 trillion won investment in semiconductors. It also revealed that it will conduct strategic large-scale investments in the next three years, suggesting that it would make a larger investment than last year.
In its conference call on Thursday, Samsung officially announced that it will proceed with a M&A deal soon.
"We have been very carefully reviewing our M&A options in the past three years continuously, and we have prepared a lot accordingly," Samsung's chief finance officer Choi Yoon-ho said. "Although it is difficult to specify when we would forge the deal due to global uncertainties, based on our preparations, we are positive we can conduct significant M&As within the business term."