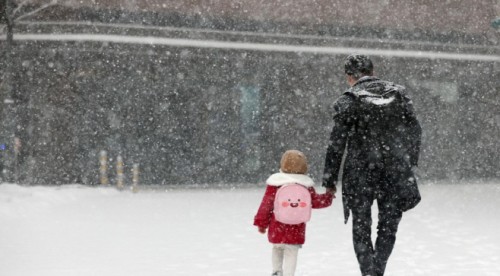 Source: Yonhap
AsiaToday reporter Lim Yoo-jin
As the government is pushing for a revision of the law that allows parents to determine the surname of a child through mutual agreement, it is likely to abolish the current law that obliges children to have the last name of their biological fathers. However, many are calling for the need to change social perception as there are many who suffer prejudice or face difficulty due to father family's opposition. Since it requires not only social consensus but also related budget to review, many point out that it should be pursued over the long term.
The Ministry of Gender Equality and Family (MOGEF) on Wednesday held a public hearing on its fourth masterplan for healthy families, which includes a measure that abolishes the current male-dominated family registry system and allows parents to determine the surname of the child through mutual agreement. The ministry will confirm and announce the plan next month.
Despite the gender ministry's policy, many point out that there are still high social barriers to make it a reality. "I gave up giving my surname to my baby due to fierce opposition from my husband's family," said a mom-to-be in her late 20s. "I wasn't able to be courageous in the face of opposition, but if someone decides to do it, I'd definitely give my support," she added.
Another woman in her 30s raising two children said, "I wanted to inherit my family name to my second child, but I decided not to do so, because my husband said the child would look like one from remarried couple. But it's a shame."
There are differences in perception between the new and old generations even among women. The younger they are, the more they agree. "It doesn't look appropriate for a child to inherit the family name of his father. I am worried that the child will be bullied or stressed out at school because this country is full of prejudices," a woman in her 50s said. On the other hand, a woman in her 30s said, "There are obviously conservative views about inheriting the family name of mother, but in the future, following the last name of mother could look absolutely normal."
Even now, children are able to inherit the surname of their mother, but only at the time of marriage registration, not at the time of birth notification. It requires court approval and complicated procedures to change children's surname, which requires improvement.
In a public perception survey conducted by the gender ministry, 73.1 percent agreed to improve the current family registry by allowing parents to determine their child's family name through mutual agreement when registering the child's birth. It surveyed 1,500 adults aged 19-79 across the country over a week from Aug. 21 to Aug. 27, 2019. It has a 95 percent confidence level with a margin of error of plus or minus 2.53 percentage points.
The number of people who follow the mother's surname is also increasing. According to data released by Justice Party lawmaker Lee Eun-joo, there were 379 cases of gender change application in 2019, an increase of 56% from 243 cases in 2015. "Such changes seem to reflect the spread of gender equality perspectives and the diversification of family forms in line with social changes," Lee said.