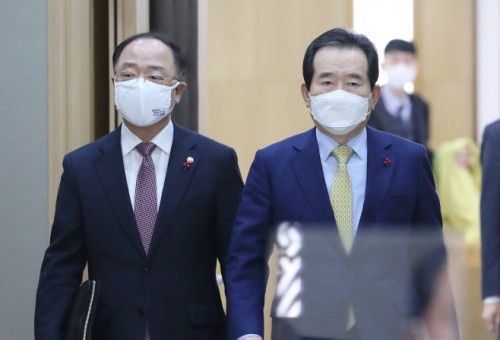 Prime Minister Chung Sye-kyun and Finance Minister Hong Nam-ki arrive at a Cabinet meeting held at the government complex in Sejong on Jan. 26, 2021./ Source: Yonhap
AsiaToday reporter Lee Wook-jae
Prime Minister Chung Sye-kyun on Tuesday ordered Deputy Prime Minister and Minister of Economy and Finance Hong Nam-ki to take lead in preparing measures to compensate small businesses for losses caused by state antivirus measures. The prime minister showed support for the finance minister, who initially responded negatively toward the move due to concerns about budget constraints, to stress the importance of the Cabinet maintaining solid team chemistry. The move seems to express the Moon Jae-in administration's willingness to speed up the preparation of compensation measures.
Prior to presiding a Cabinet meeting at the government complex in Sejong, Chung held a meeting with Hong to discuss major issues involving state affairs, including institutionalization of compensation measures for virus-hit businesses. During the meeting, Chung instructed Hong to "carefully study the opinions on-site and review the compensation measures with related ministries within the scope of which state finance can tolerate." Chung stressed the importance of solidarity of the Cabinet in order to "produce administration results that are palpable to the public."
In response, Hong explained that the finance ministry has been recognizing the need to institutionalize compensation measures even before the presidential order the previous day, and said, "We will discuss the specifics thoroughly with the ruling Democratic Party." On the same day, President Moon Jae-in showed his support to the finance minister by sharing Hong's social media message on South Korea's latest gross domestic product (GDP) data.
"As the deputy prime minister explained, we managed the economic challenges of our time relatively better than those of other major economies," a Cheong Wa Dae official said. "Moon shared Hong's post to let the people know about such achievements. It also represents Moon's expression of his gratitude to Hong and the finance ministry over the economic performance in the midst of the coronavirus crisis," the official added.
Ahead of the April 7 by-election, both the ruling Democratic Party (DP) and the opposition People Power Party (PPP) are actually speaking with one voice on compensating businesses for losses incurred by tough social distancing restrictions, accelerating the legalization in the provisional session of the National Assembly in February.