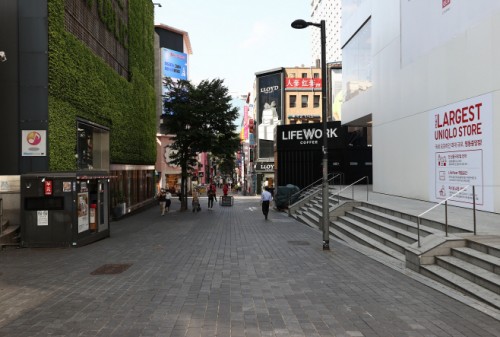 Myeongdong, the popular shopping district in Seoul, is quiet./ Source: Yonhap News
AsiaToday reporter Lee Ji-hoon
The Moon Jae-in administration and the ruling Democratic Party (DP) have started the legislative process to allow small business owners and the self-employed to get state compensation for their losses arising from the pandemic. The government, which initially has been at odds, revealed its plan for internal review, showing visible signs of legalization of the bill. However, the fact that there is no special financing plan other than issuing government bonds is deepening concerns of financial authorities amid the nation's rapidly growing national debt due to its response to COVID-19.
According to the ruling DP and the government on Sunday, the Ministry of Economy and Finance is considering specific plans to institutionalize a state compensation scheme for business losses of smaller merchants and shop owners over COVID-19. Last Thursday, Prime Minister Chung Sye-kyun ordered the finance ministry to review the measure. The following day, Finance Minister Hong Nam-ki said that his ministry will review the measure in a way that will be as "supportive as possible."
There are already several related bills in the National Assembly. One of the most eye-catching bills is the one prepared by Democratic Party (DP) lawmaker Min Byung-duk. Under the bill, the country may need around 100 trillion won if it seeks to compensate for part of business losses by smaller merchants.
The finance ministry's concerns deepen here. As state-imposed bans and restrictions on the operation of many businesses limited the livelihood of the people, the government fully agrees with the fact that it is its duty to cover the damages. However, it needs to consider its fiscal conditions and fiscal procurement plans as an astronomical amount of tax needs to be poured in.
Previously, Hong had reacted negatively to the prime minister's legislation drive, saying the government finance is not like a "widow's cruse." He pointed out that the government should always remember the fact that fiscal situation and financial conditions are one of the important policy variables to be considered.
In fact, the nation's fiscal situation looks worrisome. The country's government debt is expected to reach 1,327 trillion won in 2024 from 839.4 trillion won in 2020. The debt-to-GDP ratio is also expected to increase sharply to 58.3 percent from 43.5 percent in the same period.
The most realistic option seems to be the issuance of government bonds. DP lawmaker Min Byung-duk, who initiated the related bill, proposed to issue government bonds to raise funds allowing the Bank of Korea to purchase the bonds. Other options include raising taxes for the upper-income class and raising funds through the establishment of new contributions.
Some point out that the government needs to respond more flexibly in supporting small businesses rather than forcing it by law.
"As the state compensates the economic damage of natural disasters such as typhoons, it is reasonable to support small business owners and the self-employed hit by the pandemic to a certain level," Seoul National University professor of economics Lee In-ho said. "However, it seems adequate to establish a basic system in response to similar situations, rather than involving the government's legal responsibility."