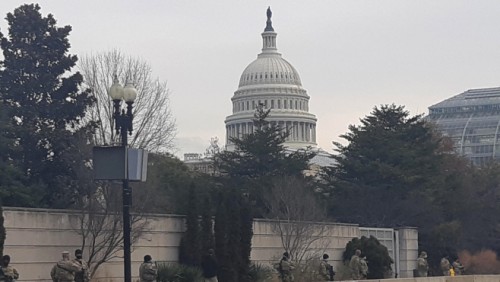 Members of the National Guard patrol near the US Capitol building ahead of President-elect Joe Biden's inauguration/ Source: Yonhap
AsiaToday reporter Chun Hyun-bin
Joe Biden has sworn the oath of office on Wednesday to become the 46th president of the United States. Biden is a veteran politician who has served more than 30 years as a U.S. senator and 8 years as a U.S. vice president. Biden's inauguration looked like no other, thanks to the COVID-19 pandemic.
Thousands of military personnel guarded Biden's inauguration as US president amid fears of an insider attack. The biggest security operation for a presidential transition turned Washington D.C. into a fortress. Biden cried as he left his hometown Delaware for Washington. He flew on a private aircraft for his inauguration on the eve of his inauguration, instead of taking his favorite transportation, the Amtrak, citing security concerns.
The Biden administration is expected to bring significant changes in the international political order. First of all, there will be significant changes in "America First" and go-it-alone policies that Trump has been seeking for. In particular, Biden, who picked the abolition of America First policy as the top priority, is expected to show a leadership that will be contrary to that of Trump.
The Biden administration is also expected to put a major turning point in diplomacy surrounding the Korean Peninsula. In particular, many predict that the defense cost-sharing issue, the biggest conflict with the Trump administration, is expected to be substantially relieved. This is because the Biden administration stresses the importance of the ROK-US alliance, hinting that it will continue to hold China in check.
The defense cost-sharing negotiation is expected to be settled at a relatively rapid manner. Biden's nominee for defense secretary, Lloyd Austin, recently said he will seek to quickly conclude defense cost-sharing negotiations with South Korea if confirmed. The OPCON transfer issue is also expected to proceed without major conflict. Since the Biden administration basically prioritizes strengthening alliances in the Indo-Pacific region, it is highly likely that military cooperation will be smoothly achieved.
Changes in North Korea-US relations are also garnering attention. Different approach is expected toward North Korea since the ruling party in the United States has changed to the Democratic Party from the Republican Party, which traditionally favors a hard-line on North Korea. Biden is expected to abandon Trump's top-down approach toward addressing the North Korean nuclear issue, and rather adopt a bottom-up strategy, where working-level negotiations take place first.
"Kim Jong-un responded to Trump's top-down approach and through that the nuclear issue would make a great progress. But the situation has changed now. He will certainly be thinking of Biden's bottom-up approach," said an expert, who has been analyzing North Korean negotiations for over 30 years. "Kim is expected to remain silent for a while to watch the situation."
"The South Korean government must also admit that the top-down approach, which has been continuing for the past 70 years, has failed, and must actively cooperate with the Biden administration's bottom-up approach. This will be the beginning of ROK-US cooperation to break the vicious cycle of provocations following negotiations," he added.