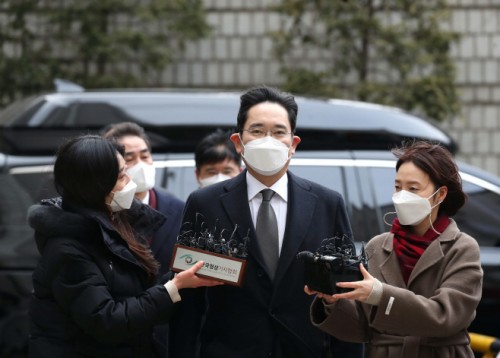 Samsung Electronics Vice Chairman Lee Jae-yong arrives at the Seoul High Court on Jan. 18, 2021, to attend a sentencing hearing over his bribery scandal./ Source: Yonhap News
AsiaToday reporter Hong Sun-mi
Samsung heir Lee Jae-yong was again imprisoned in a bribery case after a Seoul court handed down a 30-month sentence on Monday.
Lee was first arrested in February 2017 over his alleged role in a scandal linked to former President Park Geun-hye. Samsung was accused of paying bribes to Park's long-time friend Choi Soon-sil in exchange for political support for a smooth transfer of managerial power at Samsung. He was freed in 2018 after the sentence was reduced and suspended on appeal; however he was ordered back to prison with the court's ruling on Monday.
In 2017, he was sentenced to five years in prison for providing a total of 8.9 billion won in support of Choi's daughter's equestrian training and a donation to a sports foundation run by Choi's family. He was freed the following year after an appeals court reduced the sentence to 2 1/2 years, suspended for four years, based on the revised amount of bribes at 3.6 billion won. In August 2019, the Supreme Court overturned the previous court ruling and sent it back to the Seoul High Court for review, saying the 3.4 billion won used to purchase horses for Choi's daughter and a donation to the sports foundation should be considered bribes.
The verdict on Monday put Samsung rudderless for the second time in four years, raising concerns that Lee's absence could weaken the tech giant's business and investment plans amid growing uncertainties around the world in the post-pandemic era.
Samsung Electronics has established a vision to become the world's No. 1 system semiconductor maker by 2030 by investing 133 trillion won. However, its foundry business is far behind Taiwan's TSMC. Besides, it seems hard for the tech giant seems to achieve its goal in the fables market as it is pushed back by global firms such as Qualcomm, MediaTek, and Sony. Industry observers say Lee's absence is likely to delay or stop Samsung's key investment plans, such as expansion of the Austin plant in the United States, and business decisions, such as M&A deals.
Lee's jail sentence comes at a time when Samsung Electronics is facing challenges from its rivals.
In fact, many industry observers believe that Samsung's investment postponement in 2017 due to Lee's absence had contributed to its rival TSMC's market dominance in the foundry market. The fact that Samsung has not yet discovered a new business that could lead the conglomerate's future apart from its semiconductor business also adds to Samsung's challenges.
"The absence of leader hindering Samsung from making its business decision for the next five and ten years can bring the dark days of the conglomerate," said Cho Dong-geun, an emeritus professor at Myongji University. "The nature of the case is the former president's abuse of power, which infringed the business' freedom and property rights," said Lee In-jae, one of Lee's lawyers. "Given that, the ruling is regrettable."