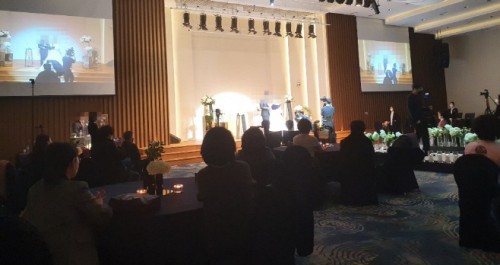 A wedding ceremony was held in two parts in Seodaemun-gu, western Seoul, on Jan. 16, 2021./ Photographed by Choi Hyun-min
AsiaToday reporter Choi Hyun-min
The extended Level 2.5 social distancing rules, which have been put in the capital area since the end of last year due to the third wave of the pandemic, are reshaping wedding scenes in South Korea.
Some are preparing their weddings in two parts, which enables to avoid postponement and invite as much guests as possible. Since such type of wedding ceremony usually takes twice as long as traditional ones, it is only possible if there is no wedding ceremony arranged for the next couple of hours. Besides, you have to pay more for the wedding depending on the situation.
Last Saturday, a wedding ceremony was held in Seodaemun-gu, western Seoul. Under the Level 2.5 social distancing rules, where gatherings of 50 or more people indoors are restricted, the wedding was held in two parts of 30 minutes each.
The first part of the wedding was held with the presence of extended family, while the second part was attended by the couple's close friends and colleagues. It took nearly an hour for the ceremony, about twice as long as the usual event. The wedding couple had to pay more for the ceremony, and the additional charge was 200,000 won (US$181).
The mood for the first and second part was quite different. While the first part of the wedding took place in a calmer, quieter manner, the second part was held in festive and bustling fashion.
In compliance with the ban on indoor gatherings of 50 people or more, less than 50 people were present for the ceremony. Only four people were allowed at one big round guest table that usually accommodate up to eight people.
No meals were provided. Instead, gifts were offered to guests who attended the ceremony.
Mr. A, the groom of the wedding, said, "As we have postponed the wedding once last year, we only invited our relatives to proceed as planned, rather than delaying once more. We decided to hold our wedding in two parts."
"The saddest thing was we couldn't treat our guests to dining properly, but I'm glad that I was able to invite many people," he said.
"I was aware that the ceremony was going to be held in two parts, but it took longer than expected because the first part took longer than I thought," said Ms. B, who attended the second part of the wedding. "I feel relieved because less crowded event reduces the risk of COVID-19 infections," she added.
"Those who are going forward with their wedding plans are coming up with various ways to cope with the situation, such as holding a ceremony in two parts, and dividing a wedding venue into parts," an official in the wedding industry said. "Many are coming up with creative ideas to comply with the guidelines while holding a wedding."