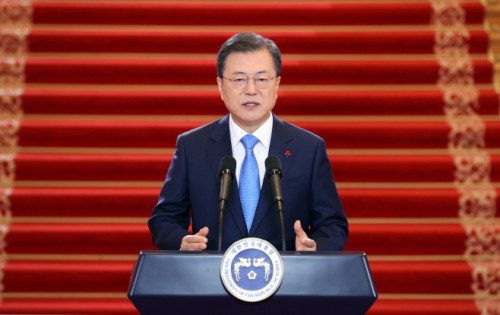 President Moon Jae-in delivers his New Year's address at Cheong Wa Dae on Jan. 11, 2021./ Source: Yonhap News
AsiaToday reporter Lee Jang-won
President Moon Jae-in said Monday that the country will offer free COVID-19 vaccinations to all South Korean people in phases starting next month. The government plans to designate up to 36 million people as priority targets for inoculations.
During his 27-minute long New Year's speech at Cheong Wa Dae, Moon expressed his strong will to win the fight against COVID-19 through national unity and economic recovery.
The president dismissed some people's concerns of vaccine introduction delays, and promised to completely overcome the COVID-19 crisis through stable supply of vaccines and treatments. "(The government) will continue to encourage South Korea's own vaccine development" as part of efforts for "vaccine sovereignty." Regarding the country's own COVID-19 treatment, Moon said, "We will make public all relevant procedures of reviewing the effectiveness and safety of a treatment developed by a South Korean firm transparently."
Moon promised making opportunity out of the crisis to become a leading nation beyond economic recovery, mentioning the word "economy" 29 times. "We will promptly implement an expansionary budget and 110 trillion won in investment initiatives in both the public and private sectors," Moon said. "Our economy will return to pre-COVID levels within the first half of the year," he added.
However, Moon apologized for the first time to the people who are weighed down by soaring housing prices. "We will not hesitate to prepare measures necessary to stabilize housing market," the president said. "We will focus on expanding supply and come up with swift and various measures."
Regarding the inter-Korean relations, Moon repeatedly proposed North Korea to participate in a regional dialogue for healthcare and anti-pandemic cooperation. As North Korean leader Kim Jong-un left the door open for inter-Korean dialogue in his New Year message, issued at the Workers' Party congress in Pyongyang, Moon stressed once again that the door remains open for dialogue. "Our willingness to talk (with North Korea) anytime anywhere remains unchanged, even in a non-face-to-face manner," Moon said.
There was no mention of possible pardons for two former presidents Park Geun-hye and Lee Myung-bak, who are currently incarcerated on corruption charges.