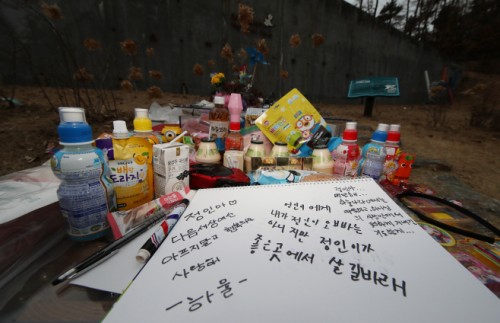 Flowers, gifts and letters are placed at the grave of Jungin, who died after having been abused by her adoptive parents, at Andersen Park Cemetery in Yangpyeong, Gyeonggi-do on Jan. 5, 2020./ Source: Yonhap News
AsiaToday reporter Choi Hyun-min
Public anger is intensifying after a 16-month-old girl named Jungin died due to suspected abuse by her adoptive parents. As of Tuesday, nearly 80,000 posts have been uploaded as part of the #SorryJungin challenge which was proposed by the Korea Child Abuse Prevention Association aimed at commemorating the death of Jungin and raising awareness about child abuse.
Netizens are expressing condolences for Jungin by participating in the hashtag campaign while urging strict punishment for their adoptive parents. As of Tuesday, around 600 petitions requesting severe punishment for Jungin's adoptive parents have been sent to the Seoul Southern District Court.
According to the court, only one out of 15 cases of child abuse resulting in death, that received final ruling last year in the country, was given a severe sentence of 15 years or more in jail. Five cases were given a sentence of less than five years, and six cases were given a sentence of 5-15 years in prison. The Supreme Court's Sentencing Commission recommends the basic sentencing standard for child abuse resulting in death to be 4 to 7 years in prison.
For this reason, many are calling for prosecutors to demand a murder charge against the adoptive parents. Last month, prosecutors charged the adoptive mother, surnamed Jang, with child abuse resulting in death, emotional abuse and neglect. She has been in pretrial detention. The adoptive father was charged with child abuse and neglect.
There have also been calls to investigate the police failure to look into the situation and to immediately separate the child from her adoptive parents after three separate reports were made to the police about suspected child abuse and maltreatment.
However, some point out that even if the perpetrators are charged with murder and given harsher punishment, it is not a fundamental measure to prevent child abuse. Even if laws and system related to child abuse are improved in the wake of "Jungin case," many are concerned that it is difficult to prevent the second Jungin case from coming out unless enough manpower and budget are prepared to implement them.
Even if sentencing is raised and children can be immediately separated from suspected abusers upon report, another case of child abuse can be repeated unless dedicated manpower and budget to prevent child abuse are not expanded.
"Raising the sentencing and separating children from abusers cannot solve the fundamental problem," said professor Jung Ik-joong of Ewha Womans University. "This public anger should be poured into securing the budget and manpower to prevent child abuse. Every abuse begins with physical punishment. Even now, more than 70% of the people think that corporal punishment is necessary when disciplining children, and this should be improved beforehand."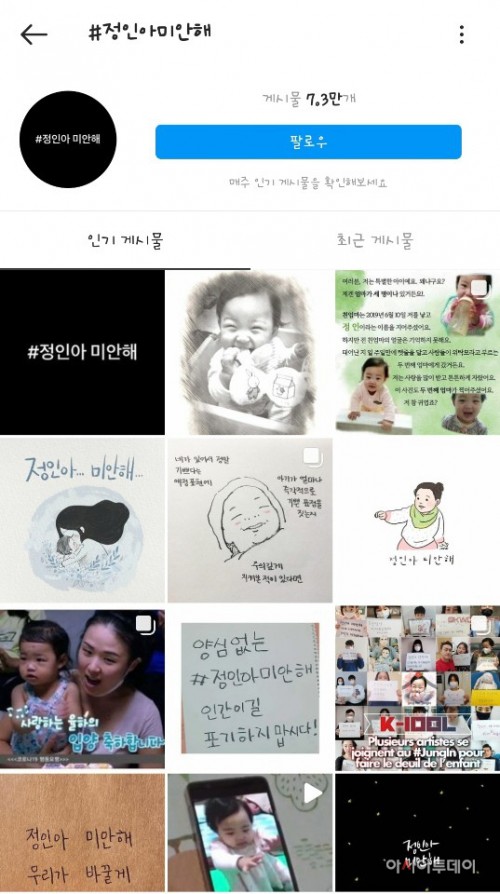 The hashtag campaign #SorryJungin has been widely responded by netizens./ A screenshot from Instagram