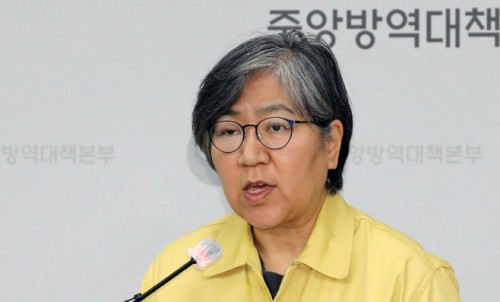 Jeong Eun-kyeong, chief of the Korea Disease Control and Prevention Agency (KDCA)/ Source: Yonhap
AsiaToday reporter Yoon Seo-young
South Korea's health authorities have decided to extend the ban on flights coming from the United Kingdom by one more week to January 7 in order to prevent the spread of a new COVID-19 variant in the country. This is the first time for the country to confirm cases of the new variant, which is believed to be about 70 percent more contagious, according to the Korea Disease Control and Prevention Agency (KDCA).
The government will make it mandatory for those coming from the U.K. and South Africa to submit a PCR negative confirmation while requiring all travelers to get tested for COVID-19 before their 14-day quarantine upon entry ends in order to prevent the spread of the virus in the local community. The government has also decided to suspend new visa issuance to those coming from the U.K. and South Africa.
"The suspension of flights from the U.K. will be expanded for another week for now. Those coming in from the U.K. and South Africa will be obligated to submit a PCR negative test result. Korean nationals are also included on the list so that all people entering the country will have to submit it," said KCDA chief Jeong Eun-kyeong in a briefing on Monday.
The KCDA said they found the new COVID-19 strain in samples collected from a family of three that flew in from the U.K last week.
The government has decided to conduct a full test on all arrivals from the two countries, where the new strain is spreading more rapidly than other countries. Also, additional tests will be conducted on all foreign arrivals before the end of their self-quarantine period of 14 days.
The KDCA said it cannot rule out the possibility of the new coronavirus strain having been transmitted inside the airplane where the passengers who were infected with the new COVID-19 strain were aboard. As a result, the authorities are carrying out an investigation on crew members and those who had been in contact with the patients.
"As the new COVID-19 variant is known to be more transmissible than the existing ones, and that the WHO recommended strengthening monitoring the new strain, new visas will be not issued for those coming from the U.K. and South Africa, except for diplomatic, government affairs and humanitarian reasons," Jeong said.
According to the KCDA, the country added 808 more infections for Sunday. The country's daily virus cases stayed below 1,000 for the second straight day, but the authorities remained cautious as this may have been due to less testing over the holiday season.