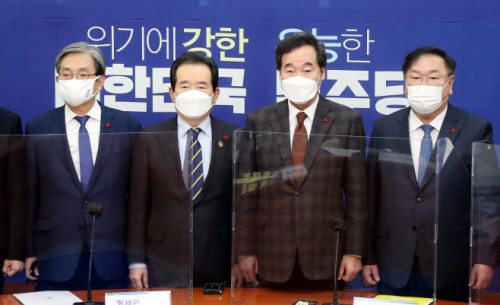 Key participants of a high-level meeting between Cheong Wa Dae, the government and the ruling Democratic Party pose for photos at the National Assembly in Seoul on Dec. 27, 2020./ Source: Yonhap News
AsiaToday reporter Lee Jang-won
The government, Cheong Wa Dae and the ruling Democratic Party (DP0 agreed to provide relief grants of up to 3 million won (US$2,700) for small business owners and self-employed people hit by the COVID-19 pandemic in the country's third round of emergency relief package. They plan to complete the payment within January. The country also plans to begin administering COVID-19 vaccines from February next year.
The decision was reached during a high-level policy discussion between officials from Cheong Wa Dae, the government and the ruling party at the National Assembly, said the party's senior spokesperson, Choi In-ho, in a press briefing on Sunday.
Under the new relief program, 1 million won will be provided to all small business owners and self-employed people, then another 1 million to those whose operations were restricted, and the final 1 million to those who had to close completely.
The move comes as more small merchants and self-employed people are facing the growing burden of paying fixed rent fees. The ruling party and the government also decided to raise the amount of tax credits offered to landlords who voluntarily reduce rents for small businesses from the current 50 percent to up to 70 percent.
However, the program will not apply universally to all landlords but only to those with incomes "under a certain level." The DP plans to handle the tax revision bill in the upcoming provisional session of the National Assembly.
"We aim to mobilize all available means to provide deeper support to people hit by the pandemic in the emergency relief grants to be distributed in January," said DP leader Lee Nak-yon.
The ruling party, the government and Cheong Wa Dae also revealed that the country will begin administering coronavirus vaccines from February. "In terms of volume, we have already secured enough vaccines to protect our people," said presidential chief of staff Noh Young-min. "Vaccinations of medical workers and the elderly will begin in February of next year," he said.
"Other nations are expected to offer inoculations to the general public during the second quarter of next year. South Korea is expected to start vaccinations of the general public around the same period," Noh said. "Collective herd immunity among the general population is expected to be formed in a similar time frame or even faster than foreign countries," he added.
Prime Minister Chung Sye-kyun said the government will push to provide rental support and income-preserving measures for small business owners and the disadvantaged in employment group. He also stressed that the government will prepare necessary beds in advance in order to prepare for a worsening coronavirus outbreak.