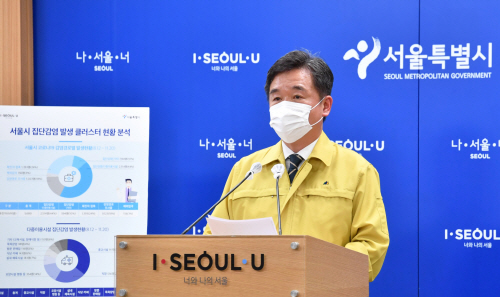 Acting Seoul Mayor Seo Jeong-hyup/ Source: Yonhap
AsiaToday reporter Kim In-hee
The Seoul city government has announced a new relief package worth some 900 billion won, or about 810 million dollars, for small business owners hit hard by the coronavirus pandemic. The city plans to issue coupons worth 100 billion won which can be used in businesses where gathering and operation is restricted in order to encourage customers to buy from small businesses. The city also plans to offer 800 billion won, or some 720 million dollars, in loans at less than 1 percent annual interest rate to small businesses.
Acting Seoul Mayor Seo Jeong-hyup unveiled the plan during a press briefing.
Starting next Monday, the city government will issue mobile coupons worth 100 billion won that can be used throughout the city. The city government and participating businesses will each provide a bonus of 10 percent of a coupon's value, providing consumers a bonus of more than 20 percent of the actual purchase amount.
For example, if a customer pays 100,000 won for a coupon, the city government and participating businesses each provide 10,000 won, allowing the customer to buy 120,000 won worth of goods. Each customer can purchase up to 300,000 won of coupon from 15 payment apps.
Among 200,000 businesses restricted to operate in the capital, including karaoke rooms, indoor fitness facilities, restaurants, cafes internet cafes, study halls and more, coupons can be only used at businesses that participate in the scheme. Coupons will be valid until Jan. 31.
The city government will offer 800 billion won at low interest to small business operators suffering from business restrictions and bans. Small businesses will be eligible for low-interest loans of up to 30 million won, or about 27,000 dollars. The city government will begin accepting applications next Monday, with the aim of handing out loans starting Jan. 4.
In addition, the city government has decided to reduce the rental fee of 50 percent for public shopping malls in the capita for the next six months. A total of 1,333 small companies and small business owners in subway shopping centers and underpass will be benefited from it.
"As social distancing rules have strengthened due to the prolonged COVID-19 crisis, small business operators and self-employed people are teetering on the edge of survival," Seo said. "We will do our best to ensure that support is provided in a timely manner to overcome the crisis."