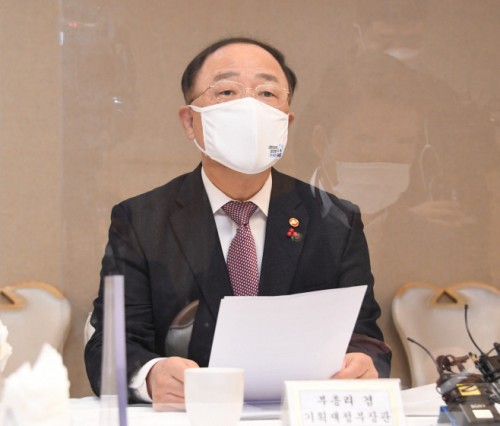 Finance Minister Hong Nam-ki speaks during a meeting on the real estate market with economy-related ministers at the Seoul Government Complex in Seoul on Dec. 22, 2020./ Source: The Ministry of Economy and Finance
AsiaToday reporter Lee Ji-hoon
Finance Minister Hong Nam-ki said Tuesday that the government will provide 460,000 housing units next year, including 319,000 apartment units, as part of efforts to stabilize the overheated housing market.
"The basic premise for a stable housing market is a sufficient supply," the minister said during a meeting on the real estate market with economy-related ministers at the Seoul Government Complex.
Of the 460,000 homes, 278,000 units will be supplied in the capital region, including 83,000 in Seoul. 319,000 homes of the total will be apartments, with 188,000 to be provided in the greater metro area, including 41,000 in Seoul.
"If the plan is implemented without any hitches, we expect it will help stabilize the market as we are set to supply more new homes than the average amount," Hong said.
"We will ensure that the expansion of mid- to long-term supply capacity can proceed without a hitch," he said.
"We will promptly complete the preliminary procedures such as establishing wide-area transportation measures in major regions and lending donations. In particular, Taereung will be able to complete the designation of districts and the preparation of a government plan for large-area transportation measures in the first half of the year," he said.
"For maintenance projects such as public redevelopment, we plan to support projects such as establishment of a cooperative and selection of contractors by promptly designating the project site, so that the business can be carried out in earnest," the minister said. "We will repair incentive system such as taxation for construction rental housing for the middle class," he added.
"We will actively review various housing supply plans according to changes in market conditions and demographic changes with relevant ministries," Hong said.
Regarding the jeonse market, the minister said, "Existing unstable factors such as the increase in the number of households have been persistent. But ease of demand for moving home has led to a partial reduction in prices and has pushed up the number of jeonse available on the market."