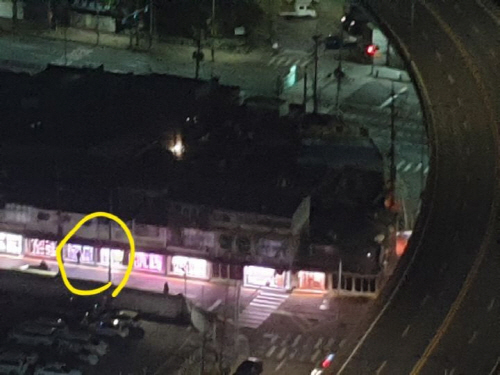 Lights shine bright at the entertainment district behind Times Square Mall in Yeongdeungpo, Seoul, after 9 p.m. on Dec. 7, 2020./ Source provided by a reader
AsiaToday probationary reporter Kim Ye-seul
Despite the government's intense social distancing measures, South Korea is grappling with the biggest wave of the pandemic. However, it has been confirmed that some risk-prone entertainment facilities have been violating COVID-19 restrictions and accepting customers secretly. While citizens' voluntary participation in the nationwide social distancing campaign is necessary, what's more important is more thorough guidance and crackdowns, experts say.
The government raised social distancing to Level 2.5 in the greater Seoul area on Nov. 24. Since then, operation bans have been in place for five types of high-risk entertainment facilities, including clubs and bars. Restaurants have been prohibited from serving customers after 9 p.m.
However, a number of businesses that have been restricted to operate were accepting customers in various places in downtown Seoul on Monday. From Friday to Monday, the Seoul Metropolitan Government booked 35 business owners and customers who violated the public health regulations. However, "secret business operation" seems still prevalent.
When asked a bar owner if a business dinner was available after 9 p.m., the owner replied, "It is available if you make enough sales. We will allow you to have dinner secretly by locking the door." The owner explained that his bar appears closed from outside if the main entrance is locked with curtains closed.
"I have been doing business this way since the beginning of the month, but I haven't been caught," the owner said. "The exit is connected to a private home, so you will never be caught," he added.
The entertainment facilities located behind Times Square Mall in Yeongdeungpo, Seoul, are not allowed to operate, however many of them were packed with customers all night long. The employees were touting on the street. In the process of entering one of the facilities, quarantine regulations such as undergoing temperature checks and filling out health questionnaires were not kept at all.
Billiard halls are also prohibited to operate as gatherings at indoor sports facilities are banned. However, some billiards have been secretly operating. "Although it remains closed, the owner allows me and my friends to enter and play billiards," a 29-year-old man who visited a billiard hall last Friday said. "We eat food and play billiards at the store," he said.
An official from the Seoul Civil Life Judicial Police Corps said, "The act of doing business in violation of the quarantine regulations amid resurgence of COVID-19 is a serious crime that threatens the health of citizens. We plan to crack down regularly by mobilizing available personnel."
Experts stressed that the best thing to mitigate COVID-19 is citizens' active participation in social distancing campaigns and voluntary quarantine. "The spread will not be quickly contained even if the country raises social distancing to the highest Level 3," said Kim Woo-joo, a professor at Korea University Guro Hospital. "People should minimize contact with others during Christmas season," he said.