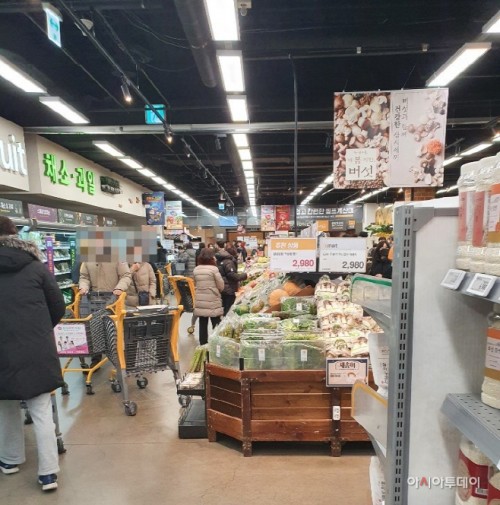 People are doing grocery shopping in a large supermarket in Mapo, Seoul, on Dec. 20, 2020./ Photographed by Choi Hyun-min
AsiaToday reporter Choi Hyun-min
People started stocking up on food and other essential supplies in anticipation the country will raise its social distancing guidelines to Level 3, the highest in its five-tier scheme, with shocking spike in COVID-19 cases recently. This is because large supermarkets are not allowed to open under Level 3 initially announced by the government.
The government said it is reviewing to allow the sale of daily necessity corners inside large supermarkets under Level 3, but there are concerns that the government's unclear standards is only aggravating confusion among citizens.
South Korea added 1,097 more COVID-19 cases on Sunday, hitting more than 1,000 for the fifth straight day, according to the Korea Disease Control and Prevention Agency (KDCA). The tally marked a rise from 1,053 cases Saturday and 1,062 Friday. The previous record high was reported at 1,078 on Wednesday.
As a result, the government is reportedly discussing various measures, including raising its social distancing guidelines to Level 3. Although the government said that it is reviewing a plan that allows the sale of daily necessity corners in large supermarkets under Level 3 measures, many people still remain anxious.
In fact, there was a threefold increase in the number of cars waiting in line to get into a foreign-affiliated superstore located in Yangpyung, western Seoul, on Sunday. It took more than half an hour to park as there were many cars waiting in the parking lot.
The store was too crowded, making it hard to push a shopping cart especially in daily necessity corners. People were waiting in long checkout queue. It took 30 to 40 minutes to reach a cashier.
"We came here to spend the holiday season at home regardless of the possibility of the government's Level 3 distancing rule announcement. But we didn't expect so many people," one resident of Seoul said. "I think there are even more people here than when the COVID-19 outbreak started and many people were panic buying."
A large supermarket in Mapo was also crowded with customers. Some of them were wearing gloves to protect themselves against the virus. Many people were stockpiling food and water. Some of the shelves of the supermarket were empty.
"Since I spend a lot of time at home, I buy more food when I go to the market, perhaps about twice as much as the usual," another Seoul resident said. "I came to buy tuna, ham, ramen and bottled water, just in case the government decides to raise social distancing rules to the highest level."