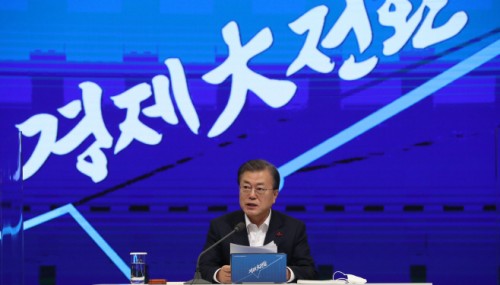 President Moon Jae-in speaks at the Korea Chamber of Commerce and Industry in Seoul on Dec. 17, 2020./ Source: Yonhap News
AsiaToday reporter Cho Sang-eun
South Korea's 2021 economic policy plan focuses on providing active financial support to help overcome economic slumps caused by the COVID-19 outbreak.
"We must use all available policy measures, including fiscal and financial ones, and promptly put the next year's expanded budget where necessary," President Moon Jae-in said during a briefing on the government's economic policy for 2021 and an expanded session of the National Economic Advisory Council. "Both private and public sectors should work together to pull off a clear recovery in the livelihood of the people," he said.
First of all, the government plans to inject 110 trillion won (US$110.9 billion) into supporting public, private and corporate investment projects to bring investment recovery next year, which is an increase of 10 trillion won compared to this year. In addition, 63 percent of next year's fiscal expenditure will be executed in the first half of next year.
The government intends to strengthen the virtuous cycle where investment, consumption, and job creation feed into each other.
In order to do so, the government plans to provide additional tax benefits to revitalize domestic economy. For example, it will extend a temporary tax cut in consumption tax on passenger cars by 30 percent by another six months. It will also provide tax benefits over card spending and a subsidy for energy-efficient home appliances.
In the case of job creation, the public sector will play a bigger role. The government plans to hire more people in the public sector, mainly in essential fields related to safety and public health.
In particular, the government plans to inject 1.4 trillion won to provide 1.04 million jobs for the vulnerable. Among them, the government plans to hire 500,000 people in January.
The Korean New Deal initiative is another pillar of the government's economic policy.
"The Korean New Deal, which will be promoted in full swing next year, will support South Korean companies moving toward low-carbon economy and raise digital competitiveness to entire industry," the president said.
The government decided to provide intensive support for the four pillars of the New Deal – the Digital New Deal, the Green New Deal, the strengthening of the job and social safety, and balanced regional development – through financial investment, private capital utilization, and legal system improvement.
In this regard, the country plans to invest 12.7 trillion won for the Digital New Deal while spending 13.2 trillion won for the Green New Deal and more.
The government's key policy direction is transforming South Korea into a "pacesetting" country.