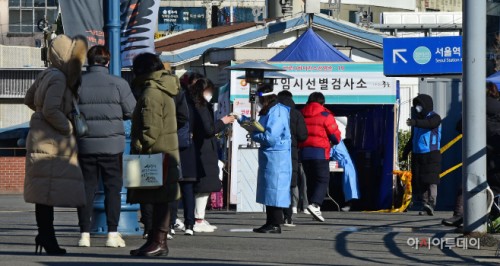 People are waiting in a line to get tested at a temporary testing center at Seoul Station in Seoul on Dec. 14, 2020./ Photographed by Song Eui-joo
AsiaToday reporter Choi Hyun-min
"I came to get tested just to be sure."
Citizens were standing in a long line to get tested at a testing center at Seoul Station in central Seoul Monday. It was one of the coldest days this season, but that did not stop people from getting tested. Since the area is a heavily populated area with various kinds of offices and a large floating population, the people who were standing in line were from all age groups.
"I just came here to get tested before going to work," said A, an office worker who goes to work near Seoul station. "I heard that people without symptoms can pass on the virus, so I came here just to be sure. Amid a surge in cases across the country, I hope the government raises social distancing to Level Three soon, but I think it's not easy," he said. "I hope many people take this opportunity to get tested and spend time at home."
"The testing center opened at 9 a.m. and there have been constantly 20 to 30 people waiting in line," said a testing site official who was adjusting a distance of two meters between those in line.
For convenience, two more types of test - saliva PCR and quick antigen testing - have been newly implemented at the testing sites. "Among the three different types of tests, many people choose to take saliva PCR test," the official said.
Another testing center has been set up at densely-populated Yongsan Station. There wasn't many people waiting in line, but people were occasionally visiting to get tested. It took 10 to 20 minutes to get a test.
"If you take a general COVID-19 test, you can't go to work and wait at home until the test results come out. But I came here because it only takes 30 minutes to get tested and see the result," said B, a Seoul resident.
The government has opened nearly 150 temporary testing sites across the capital region on Monday in a bid to find asymptomatic cases. The testing sites will be open for the next three weeks until January 3. Anyone can visit to get a free test. There are 56 temporary testing sites in Seoul.