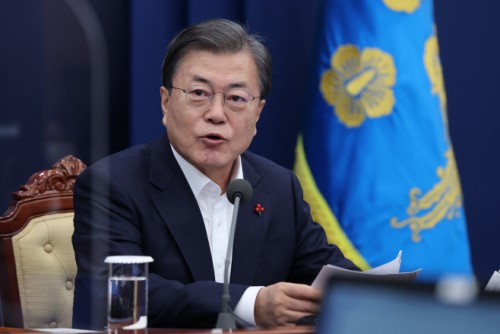 President Moon Jae-in/ Source: Yonhap News
AsiaToday reporter Lee Jang-won
The National Assembly on Thursday passed revisions to a law on setting up the powerful Corruption Investigation Office for High-ranking Officials (CIO), which can remove veto power of the main opposition party. As a result, ruling Democratic Party (DP) is expected to independently recommend a candidate for the inaugural chief of the CIO while preparing to launch the new investigative body. President Moon Jae-in expressed expectation that the CIO will be officially set up next year.
However, the political situation is deteriorating as the PPP is considering a boycott of all parliamentary activities and a protest against the revision bill. Besides, a meeting to discuss disciplinary measures against Prosecutor General Yoon Seok-youl over alleged irregularities was held on the same day, leading to a far deeper confrontation between the rival parties.
The revision bill on the CIO law passed a plenary session in a 187-99 vote. One lawmaker abstained. The bill was introduced at Wednesday's plenary meeting; however voting was delayed due to a filibuster launched by the main opposition party.
Under the new legislation, the ruling bloc would be able to choose an inaugural CIO chief with its supermajority. Once the DP recommends two CIO chief candidates, President Moon Jae-in would select the head of the CIO. Then a personnel hearing on the final candidate would be held within 20 days to be appointed either by the end of the year or early next year.
After the passage of the bill, President Moon said it was "fortunate" that the way has been opened for the speedy CIO establishment. He said he was deeply filled with emotions as he could keep his pledge, according to Cheong Wa Dae spokesman Kang Min-seok.
The president also expressed expectations that the CIO will be officially set up at the start of 2021.
As the bill's passage was announced at the National Assembly, PPP lawmakers protested fiercely while ruling party lawmakers welcomed it with wild clapping.