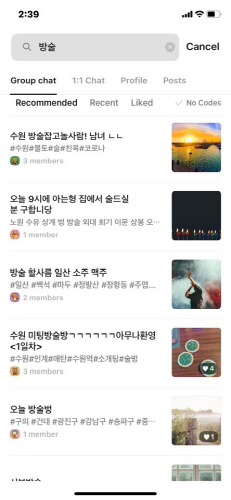 Amid an explosive increase in new daily cases, more people are looking for other people to have a drink together in a room on mobile chatting rooms./ Source: Captured image of KakaoTalk's open chatting room
AsiaToday reporter Choi Hyun-min & probationary reporter Kim Ye-seul
Amid an explosive increase in new daily COVID-19 cases, concerns are growing that the country is facing the most serious crisis since the first peak in March. As a result, the South Korean government has further raised distancing regulations Tuesday for the greater Seoul area to Level 2.5 for the next three weeks with hopes to prevent further spread and damage during the year-end season. However, the recent spike in infections is showing no signs of letting up as there are still blind spots and people looking for year-end gatherings and activities.
The so-called 'balloon effect' is immediately taking effect as Seoul City issued last Saturday an emergency no-assembly order past 9 p.m. for facilities placed under general monitoring. Many people, particularly young adults, are flocking to new venues such as motels and party rooms to have a drink. Such situation is expected to continue for a while until the end of the year.
On Monday, several posts looking for someone to get a room to have a drink have been constantly uploaded on mobile app Blind and KakaoTalk's open mobile chatting rooms. Due to Seoul City's tightened rules, people have been unable to spend time at restaurants and bars after 9 p.m.
Motels, party rooms and other types of accommodations in downtown Seoul were fully booked on weekdays as well as weekends. "All of the rooms are booked on not only weekends, but also weekdays," said an official at a motel in Sinchon in western Seoul.
"There are an increasing number of people asking for rooms after 9 p.m. without making reservations," said a 33-year-old employee of another motel nearby.
"The number of reservations for accommodations in December increased more than five times from the previous year. Prices have doubled, but most of the reservations have been completed," an official from a facility reservation app said.
Experts warn that people should be cautious meeting their families and acquaintances as the third wave was caused by small cluster infections. "Lodging establishments are in the blind spot because there are no legal anti-virus measures on them," said Kim Woo-joo, a professor at Korea University's Guro Hospital. "People should refrain from meeting people and visiting places in the year-end season," he added.
As year-end gatherings are restricted at restaurants and bars in Seoul and surrounding areas, more people are now heading to areas other than greater Seoul, which are currently under relatively moderate Level 2. As a result, there is a growing voice calling for strongly limiting external activities of the public by collectively raising distancing rules to Level 3 nationwide.
Experts point out that those regional pensions and other accommodations, which have emerged as alternative venues for year-end gatherings and drinks, are prone to transmission. Since such venues are usually confined with poor ventilation, there is a high chance of new cases with unknown transmission routes.
"The country should either raise social distancing rules in non-capital area to Level 2.5 or equally raise the rules across the country to Level 3," said Lee Jae-gap, professor at the Infectious Disease Department of Hallym University.