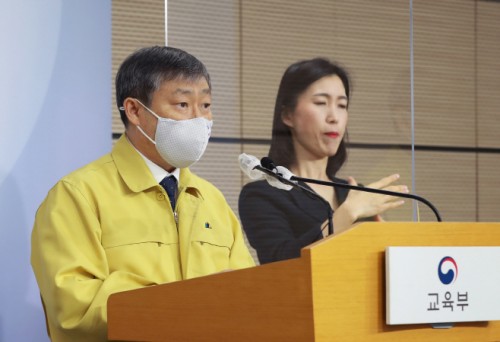 Vice Education Minister Park Baek-beom speaks in a briefing at the government complex in Sejong on Dec. 2, 2020./ Source: The Ministry of Education
AsiaToday reporter Joo Sung-sik
South Korean students infected with COVID-19 or in self-quarantine will be still able to take the national college entrance exam, which will be held at 1,383 testing sites nationwide, on Thursday.
"So far, we have been preparing thorough antivirus measures and separating testing sites to accommodate all those with the virus or under quarantine for the exam, so that all test-takers are able to take the test in a safe environment," said Vice Education Minister Park Baek-beom in a briefing at the government complex in Sejong on Wednesday.
According to the Ministry of Education, around 490,000 high school seniors, graduates and others are scheduled to take the College Scholastic Ability Test (CSAT) in 1,383 testing sites. As of Tuesday, the country has prepared 31,291 testing rooms, nearly double the number from last year to allow more social distancing.
Of them, 583 testing rooms at 113 testing sites are designated for those currently under quarantine. They can accommodate as many as 3,775. The Ministry of Education and the Korea Disease Control and Prevention Agency (KDCA) prepared a total of 25 hospitals and four nonhospital treatment centers nationwide, which can accommodate up to 205 test takers confirmed with COVID-19.
As of Tuesday, 37 test-takers have been diagnosed with the virus, and 430 others in quarantine. Out of the 37 with COVID-19, thirty-five will have the opportunity to take the exam at designated medical facilities and separate venues while two declared that they will not take the test this year.
Out of 430 test-takers in quarantine, 404 plan to take the exam. Of them, 268 test-takers will go to designated test sites by their own vehicles, while 119 will go by either local government vehicles or ambulances. The ministry plans to support transferring the remaining 17 test-takers who have not been assigned to the testing sites, as soon as their testing venues are confirmed.
The ministry began operating a 24/7 emergency system along with the KDCA, National Fire Agency as well as local education offices. Those test-takers who experience any symptoms of COVID-19 on the exam day should visit a public health center and take the test under the guidance of local office of education.