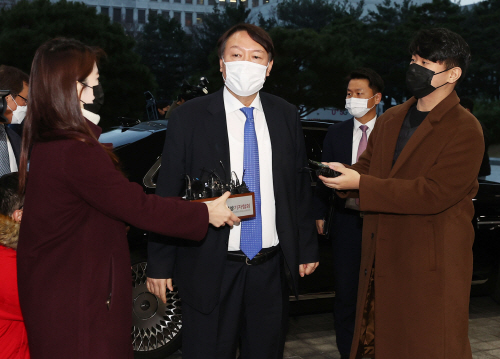 Prosecutor General Yoon Seok-youl returns to work at the Supreme Public Prosecutors Office in Seoul on Dec. 1, 2020./ Source: Yonhap
AsiaToday reporter Heo Kyung-joon
Prosecutor General Yoon Seok-youl returned to work on Tuesday immediately after a Seoul court lifted his suspension, which was ordered by Justice Minister Choo Mi-ae a week ago.
Following the Seoul Administrative Court's decision earlier to accept Yoon's request for an injunction to temporarily halt the order suspending him from duty, Yoon returned to work at the Supreme Public Prosecutors Office in southern Seoul. "I express gratitude to the judiciary for its swift decision that allowed me to quickly return to duty," he said.
"I pledge to everyone that I will do my utmost to protect the spirits of the Constitution and rule of law as an official of the Republic of Korea," he said.
The Seoul Administrative Court approved Yoon's injunction request against his suspension ordered by the justice minister. Earlier in the day, the inspection committee under the justice ministry also took Yoon's side by advising against the decision to suspend the top prosecutor from duty.
As a result, the justice minister's push to remove the top prosecutor virtually faced a setback.
The inspection committee held an emergency meeting at the Government Complex in Gwacheon and unanimously concluded that seeking disciplinary measures, suspending Yoon from duty and launching investigations against him were not appropriate.
The committee said there were serious flaws in the decision-making process, as Yoon had not been properly informed of allegations against him in advance and had not been given enough time to explain his positions on them. However, the committee's decision is a recommendation and is not binding.
The minister refuted the committee's findings, saying the inspection into the top prosecutor was conducted appropriately, including making efforts to allow him to explain his side. "I will fully take note of the advice from the inspection committee while following disciplinary procedures according to law and process," she said.
The discussion held by the inspection committee was attended by inspector Ryu Hyuk and inspection officer Park Eun-jeong from the justice ministry as well as lawyer Lee Wan-kyu, who represents Yoon.