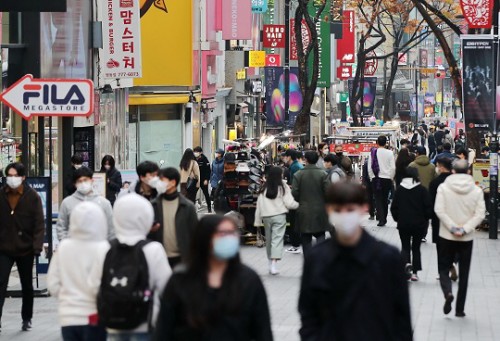 People wearing masks walk across Myeong-dong street in Seoul./ Source: Yonhap
AsiaToday reporter Jang Ji-young
South Korea has reported almost 600 new cases of coronavirus on Thursday as the country is battling the full-blown third wave of infections. The daily COVID-19 increase in the country surpassed 500 for the first time since March 6, during the first wave of the epidemic in Daegu and surrounding North Gyeongsang Province. Health authorities expect the daily tally could hover between 400 and 600 until early December if the upward trend of COVID-19 cases continues, however they remain cautious over further raising the social distancing level to Level 2.5. Experts also stress that it is necessary to be cautious over raising the distancing level since it has a great impact on the social and economic activities of the people.
The Korea Disease Control and Prevention Agency (KDCA) said as of 12:00 a.m. Thursday, that the country added 583 more COVID-19 cases, raising the country's cumulative total to 32,318. Out of the new cases, 553 were local infections while 30 were imported. The daily average number of patients in past week stood at 380.6 while the country's daily average number of local infections stood at 353.4, close to the threshold for Level 2.5, which is imposed when daily new cases continue to surpass 400-500 nationwide or the number of patients double from the previous day.
The health authorities said the country could see 400 to 600 virus cases daily for a while. "The upward trend of COVID-19 cases is likely to continue for a while," said Lee Sang-won, a senior KDCA official. "Based on a mathematical prediction model, we may see daily virus cases between 400 and 600 until early December," Lee said.
The health authorities said the recent clusters are originating from daily activities rather than a specific mass gathering as in previous waves. They said there are many sporadic cluster infections across the country and sources of infections have been diversified, such as restaurants, schools, saunas, churches and the military. Besides, more active and young people are at the center of the spread.
But authorities said it is too early to discuss raising social distancing measures to Level 2.5.
"The effect of distancing in the greater Seoul has not yet emerged," Sohn Young-rae, a senior health official, said. "Today's patient numbers do not meet standards for Level 2.5 distancing, and it is too early to tell the effectiveness of Level 2," Sohn said.
Experts also remained cautious over raising the distancing level. "The number of new patients will decrease if the distancing level is raised," said Kim Nam-joong, a professor at Seoul National University Hospital's division of infectious disease. "However, the social distancing level should be determined considering the problems that arise, such as economic loss, education gap, and depression, after raising the distancing level," Kim said.