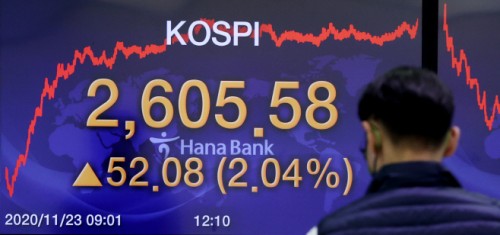 South Korea's benchmark Kospi closed at its highest in two years and ten months on Monday. The main bourse rose 49.09 points to end at 2,602.59./ Source: Yonhap News
AsiaToday reporter Choi Jung-ah
South Korea's benchmark Kospi closed at its highest in two years and ten months on Monday. The main bourse rose 49.09 points to end at 2,602.59. Accumulated Kospi market capitalization recorded a fresh high of 1,787 trillion won. Local stock, which has been undervalued for the past years, is gaining strength on hopes of global economic recovery, on top of the country's successful quarantine efforts and individual investors' active participation.
The market capitalization of the Kospi market increased 26% this year, according to stock market operator Korea Exchange (KRX). This is relatively higher compared to 8.6% in 2011 and 10.6% in 2017. The average daily trading value during this year's bullish period stood at 13.6 trillion won, 195.7% up compared with the same period in 2017, due to a sharp increase in individual trading.
"KOSPI took the second place among the stock markets of the world's 20 major economies in terms of rise rate," said the KRX. "It showed a relatively rapid rise."
KOSPI was able to hit the highest-ever close led by hopes for the recovery of the global economy, fueled by the country's successful control of COVID-19, dubbed locally as "K-quarantine," and the government policy.
The rally was particularly driven by bio and 'untact' businesses due to vaccine hopes and the establishment of non-contact culture. Besides, the increased participation of individual investors in the stock market and the fact that the Kospi has been undervalued also contributed to the gain of the Kospi.
"With the government's appropriate economic stimulus measures and the active market participation of individuals, the country's stock market is taking a new leap," the KRX said.