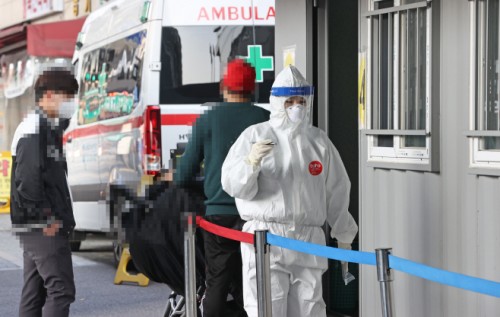 Source: Yonhap News
AsiaToday reporter Lee Sun-young
The government will raise its social distancing level starting Tuesday in order to curb the rising trend of virus cases. The Level 2 distancing will be applied to the nation's greater Seoul area, while North and South Jeolla Provinces, collectively referred to as the Honam region, will be under the Level 1.5 distancing for two weeks. The move is aimed to ease the rising trend of virus cases before the national college entrance exam scheduled on Dec. 3 and to prevent massive infections in the winter season in advance.
The Central Disaster and Safety Countermeasures Headquarters announced that it will raise the social distancing level for Seoul and surrounding areas to Level 2, and for Honam region to Level 1.5 for two weeks starting Tuesday, due to the rapid increase in the number of confirmed virus cases. The country's new COVID-19 cases exceeded 300 for the fifth consecutive day on Sunday with 330 cases.
The health authorities judged that the greater Seoul area and Honam region weree reaching the threshold for Level 2 and 1.5 distancing, respectively. They started to enforce the Level 1.5 distancing from Nov. 19 for the greater Seoul area, but they raised the level after three days. Initially, they had decided to apply Level 1.5 distancing for two weeks. However, as virus infections in the region showed no signs of a letup, they decided to adopt tougher antivirus curbs judging that the third wave of COVID-19 outbreaks was in full swing.
In fact, the daily average of COVID-19 cases between Nov. 15 and 21 in the greater Seoul area reached 175.1, nearing its Level 2 criteria of 200 cases. The figure is more than double from the daily average of 83 cases recorded Nov. 8-14. The spread of the virus is expected to continue for a while, as the virus reproduction rate is already over 1.
For the Honam region, the daily average of virus cases in the recent one-week period stood at 27.4, close to its Level 1.5 criteria of 30 cases. In particular, the number of confirmed patients in their 60s or older reached 6.7. Gwangju and some other regions have already been under Level 1.5, but health authorities pointed out that COVID-19 appears to be spreading fast to other cities and counties.
The health authorities explained that local governments are allowed to adjust social distancing rules depending on circumstances there.
"We believed it was necessary to suppress the spread of infection as soon as possible in consideration of the seriousness of the situation, the preparation period required for adjusting the distancing rule, and the fact that the national college entrance exam that was about 10 days away," said Health Minister Park Neung-hoo.