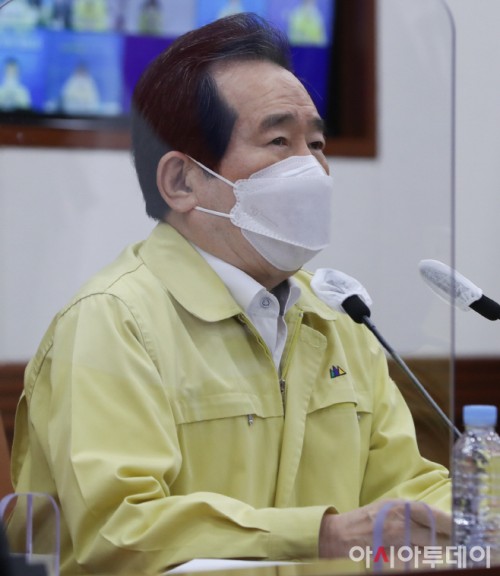 Prime Minister Chung Sye-kyun speaks during a meeting on the COVID-19 response at the government complex in Seoul, Tuesday./ Photographed by Song Eui-joo
AsiaToday reporter Jang Ji-young
The government decided Tuesday to raise the social distancing level by one notch to 1.5 in the greater Seoul area. The new distancing guidelines will be enforced for Seoul and Gyeonggi Province from Thursday while they will be put in place in Incheon from Monday. In Gangwon Province, the municipality is to adjust distancing rules at individual city and district levels depending on circumstances there. The government plans to make every effort to create a safe environment for students ahead of the nationwide annual college entrance exam scheduled next month. However, there are concerns over possible disorder among test-takers if anti-COVID-19 efforts fail to dampen a spike in new cases.
The biggest change from Level 1 to Level 1.5 rules in the country's five-tier social distancing system is that the number of people allowed at indoor facilities is limited. Only one person is allowed per 4 square meters at indoor facilities. However, some point out that there is no significant difference between Level 1 and Level 1.5, and that raising it to Level 2 is necessary for preemptive quarantine efforts.
The health authorities stressed that the government's decision was inevitable to prevent further spread of COVID-19. "The latest adjustment aims to prevent an epidemic in the capital region and Gangwon Province and to turn the situation around," Health Minister Park Neung-hoo said at a briefing Tuesday.
The daily average of new COVID-19 cases during the past week stood at 99.4 in the greater Seoul area and around 20 in Gangwon Province, reaching the threshold for Level 1.5 distancing.
Level 1.5 is the initial stage of a regional epidemic, requiring tightened social distancing rules at 9 types of "priority" facilities and 14 types of "regular" facilities. The priority facilities are five types of entertainment businesses, such as nightclubs; direct sales booths; karaoke bars; indoor standing-concert halls; and restaurants and cafes.
"Once the social distancing level is raised, citizens will experience great inconvenience in their daily lives and the burden on small business owners will be increased again, but we all know from prior experiences that a bigger crisis will come if we don't make a decision now," Prime Minister Chung Sye-kyun said. "It is now time for everyone to raise awareness as the balance between quarantine and daily life is put in crisis again," he added.
The government asked citizens for more active cooperation in quarantine efforts ahead of the national college entrance exam. "The government will raise awareness about quarantine measures and carry out a further enhanced quarantine measures," President Moon Jae-in said during a Cabinet meeting Tuesday.