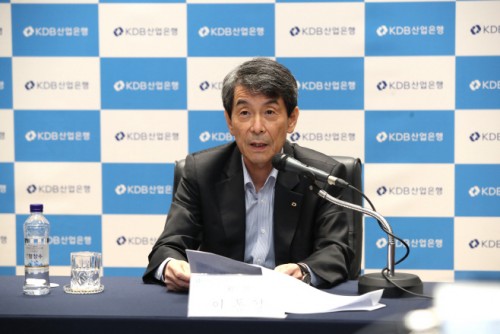 Korea Development Bank Chairman Lee Dong-gull speaks during a press conference at its headquarters in Seoul, Monday./ Source: Korea Development Bank
AsiaToday reporters Moon Noo-ri
South Korea's two biggest airlines plan to merge, with Korean Air Lines acquiring Asiana Airlines. Korean Air is expected to be ranked as one of the world's top 10 airlines once the deal is completed. The government and Korea Development Bank (KDB) plan to merge the two airlines to recreate it as the world's 7th largest airline in terms of transport volume, laying the groundwork for becoming a world-class airline in the post-coronavirus era.
"KDB and Hanjin Group signed an investment deal worth 800 billion won ($721.3 million) to take the first step in restructuring the domestic aviation industry by merging the country's two biggest airlines, Korean Air and Asiana Airlines," said KDB Chairman Lee Dong-gull in a press conference Monday. The government's decision came following a ministerial meeting earlier in the morning to discuss ways to normalize Asiana's operations.
Under the plan, the state-run KDB will inject 800 billion won into Hanjin KAL, Korean Air's parent firm, through a rights offering and convertible bonds. Hanjin KAL will then participate in the 2.5 trillion won worth of stock sale by Korean Air.
"We will complete the transaction as soon as possible within the year," Lee said. "The early normalization of the aviation industry will contribute to securing the national aviation industry's international competitiveness in the post-coronavirus era and is also expected to have a positive effect on the national economy," Lee said. According to 2019 data from the International Air Transport Association (IATA), Korean Air and Asiana rank 19th and 29th respectively, in terms of passenger and cargo transport performance. If both companies' transport volumes are simply combined, they rapidly rise to the 7th place in the global market.
KDB Vice President Choi Dae-hyun said the three low-cost carriers (LCCs) of the two companies will be integrated by stages in order to become the largest LCC in Northeast Asia. "We have 59 LCCs in total," Choi said. "It will be the second largest following Air Asia."
KDB proposed a strategy to increase profitability by creating integrated synergies, such as rationalizing route operation, reducing operating costs, and reducing interest expenses. The plan is aimed at achieving external growth and realizing economy of scale based on cooperation with global airlines and development of new routes and overseas transit demand.
Regarding concerns about restructuring, Choi said there will be no "artificial restructuring" after the transaction considering natural decline in employee numbers and new projects.
Regarding concerns about consumer damage related to monopolization, he said, "Routes and schedules will be diversified instead, and consumer benefits such as mileage integration are expected to increase."