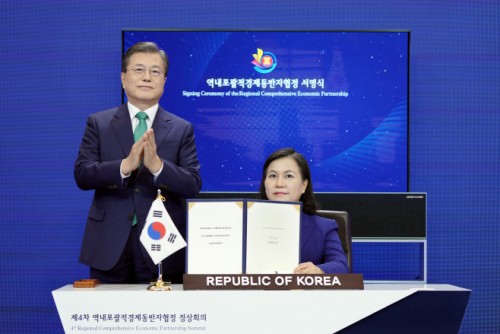 South Korean President Moon Jae-in waives to leaders of other nations, with Trade Minister Yoo Myung-hee standing next to him, during the signing ceremony of the Regional Comprehensive Economic Partnership (RCEP) agreement at Cheong Wa Dae in Seoul on Nov. 15, 2020./ Source: Yonhap News
AsiaToday reporters Lee Seok-jong
The Regional Comprehensive Economic Partnership or RCEP was signed Sunday by 15 member states in the Asia-Pacific region, including South Korea, China, Japan, Australia, New Zealand and 10 members of the Association of Southeast Asian Nations (ASEAN).
President Moon Jae-in attended the RCEP summit meeting and the signing ceremony of the world's largest free trade agreement, held via video links, along with leaders of 14 partner countries.
Since 2012, the ASEAN and its dialogue partners have been seeking to create the mega trade deal. India has dropped out of the negotiations due to concerns that its trade deficit with China would grow.
The leaders of the RCEP member states stressed in their joint statement that they still value India's role in the bloc and reiterated that the RCEP remains open to India.
The agreement covers a market of 2.2 billion people, or almost 30% of the world's population, with a combined GDP of US$ 26.2 trillion or about 30% of global GDP, and accounts for nearly 28% of global trade (based on 2019 figures). Last year, South Korea's exports to the member nations of RCEP came to $269 billion, accounting for half of its total exports.
With 20 chapters, the RCEP Agreement includes areas and disciplines that were not previously covered in the existing free trade agreements between ASEAN and non-ASEAN countries participating in RCEP. Aside from the specific provisions that cover trade in goods and services, and investment, RCEP also includes chapters on intellectual property, electronic commerce, competition, small and medium enterprises (SMEs), economic and technical cooperation and government procurement.
For this reason, there is a growing expectation that the RCEP agreement will provide a wide range of opportunities for South Korea as well as businesses located in the region in terms of market access.
The most promising point for South Korea from the mega trade deal is the expansion of its presence in ASEAN market. The 10 ASEAN countries opened up not only traditional core industries to South Korea, such as automobiles, parts, and steel, but also new promising industries such as textiles, medical supplies, and sanitary products as well as services markets.
The deal will is expected to expand South Korea's trade and investment with ASEAN countries, strengthen economic cooperation, and advance domestic industries, helping it to overcome the COVID-19 pandemic and support economic recovery.
As South Korea has led the RCEP negotiations as a core framework for expanding trade and investment with new southern countries, the RCEP signing is evaluated as a core result of the Moon administration's New Southern Policy.
The deal is also significant as it will offer effect of Seoul-Tokyo free trade agreement as Japan is participating the deal.
One of the highlights is that the signing of the deal will be a testament to the world on the efforts to strengthen the multilateral trading system and uphold the development agenda in the World Trade Organization (WTO).
"Facing the challenges of COVID-19, rising protectionism and threats to multilateralism, we hereby champion values of free trade, led by the young and vibrant ASEAN," the president said. "I am certain that RCEP will contribute to restoring multilateralism not only in the region, but around the world, and to developing an order of free trade."
"RCEP has optimal conditions to lead the post-coronavirus era," Moon said. "It will open the world's largest e-commerce market, and SMEs, startups and countries with different stages of development will create the future together."
"The RCEP will lower trade barriers and facilitate movement of people, materials and companies within the bloc," he said. The president added that he will work with the member states to make RCEP a joint community for co-prosperity that leads the post-COVID-19 era.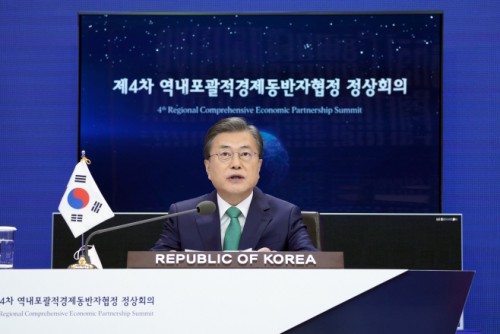 President Moon Jae-in speaks during the RCEP meeting, held via video links, at Cheong Wa Dae in Seoul on Nov. 15, 2020./ Source: Yonhap News
Regarding India's absence from signing, Moon said, "I look forward to early entry of India, who has long been together for the discussion, as well as active efforts of member states."
The leaders of 15 countries adopted the joint statement and agreed that RCEP will be an important milestone for economic recovery.
"We believe that RCEP demonstrates our strong commitment to supporting economic recovery, inclusive development, job creation and strengthening regional supply chains as well as our support for an open, inclusive, rules-based trade and investment arrangement," Moon and his counterparts said in their joint statement.
"We acknowledge that the RCEP Agreement is critical for our region's response to the COVID-19 pandemic and will play an important role in building the region's resilience through inclusive and sustainable post-pandemic economic recovery process," the statement said.
"We note that the RCEP Agreement is an unprecedented mega regional trading arrangement that comprises a diverse mix of developed, developing and least developed economic of the region. We believe that RCEP, being the world's largest free trade arrangement, represents an important step forward towards an ideal framework of global trade and investment rules."
"We also note that the RCEP Agreement is the most ambitious free trade agreement initiated by ASEAN, which contributes to enhancing ASEAN centrality in regional frameworks and strengthening ASEAN cooperation with regional partners," the statement said.
Amid intensifying trade row between Washington and Beijing, some observers are concerned that the signing of RCEP could be seen as a coup for the United States as the RCEP is led by China. Some claim that the United States may ask Seoul to join the Comprehensive and Progressive Agreement for Trans-Pacific Partnership (CPTPP).
In response, a key official from Cheong Wa Dae said that CPTPP and RCEP are not "contradictory" but "complementary" as several RCEP members take part in the CPTPP.